Tuamotu Atolls....... Blog and Photos

Providence
Matt Stafford and Rohan Buckley
Wed 27 Aug 2014 04:41
G'day all..... It's always the case when you are having fun time flies,
and you don't keep up with your personal admin. This is the same with
the blog and as usual it's been some time between entries. We last
wrote about arriving in the Tuamotu Atols from the Marqueses islands.
The Marqueses was wonderful..... Incredibly dramatic with its mountains
and its beautiful green valleys. The Tuamotu islands group, some 500 nm
south west could not be more different. These are a series of atols
that were once ancient volcanoes that have calapsed and eroded to form
necklaces of hundreds of islands (motu's) that are very flat, coral
based, and don't grow much more than coconut trees and have very little
water and the primary industry is black pearls. Though not the dramatic
peaks of the Marqueses, they have a wonder and beauty all to their own
and we loved it. Every day was a postcard moment with the crystal clear
blue water teeming with fish that made the diving, snorkeling, fishing
and spear fishing a daily activity and the best yet.

Our fist Stop in the Tuamotu's was the Tahanea Atol and we spent 4 days
there snorkeling and exploring. The entrances to the atols are usually
one or two channels into the ring of islands that have very strong
currents that can be tricky getting in and out depending on the tide and
direction. This also creates amazing channels for drift diving and
snorkeling that we abused several times a day.

The next atol was Fakarava and was an easy 45 nm sail to the west. Our
first stop was in the south which is a meca for diving and kitesurfing.
The south pass is world famous for drift diving with reef sharks and we
did a few dives and were not disappointed. At about 15m depth you come
across and drift through patches of hundreds of sharks of all sizes up
to about six feet, as well as hundreds of tropical fish and crazy
coral.... Incredible!!!!

The kitesurfing there was recommended by some mates and despite the
winds not being too consistent and the daily coral cuts on the feet and
legs, we all had a lot of fun. Spear fishing was good even with the
sharks. An experience we will not soon forget is spear fishing in
groups (with some other yachts kitesufers we met there) for general
support and protection as it did not take long once the first fish was
speared to have dozens of said mentioned sharks circling you at fin
kicking length to take the opportunity to steal your fish right off the
spear before you had a chance to get it out of the water and into the
tender.... Crazy stuff and we loved it!!!

After the south pass we sailed to the north pass in Fakarava for a few
days replenishing supplies in the local village and checking out a few
of the pearl farms before leaving this atol for our next and final atol
of the Tuamotu's called Apataki. Apataki was another kite recommended
spot but it also had a small carenage (storage for yachts out of the
water) that we checked out that was close to the kiting spot. The pass
getting into Apataki was probably the most difficult so far because of
the current, with it flooding at over five knots in narrows of only a
few boat lengths. Otherwise we had a great few days kiting and
snorkeling, and had a great evening with a bomb fire on the beach with
cooked grouper in fresh coconut milk..... Lovely!

The fishing throughout the Tuamotus was great, be it from a rod or
spear, but you had to be very wary of ciguatera (a sickness from coral
based fish that can be very nasty and even fatal) so you had to ask
locals about what to eat at all times. Pelagic fish were ok, like tuna
etc caught at sea, and a few times we hooked some big sail fish that
gave us a good fight fun but always lost at the last minute.... The
fabled ' one that got away'.... ;)

Despite having the time of our lives we had to move on and sail to
Tahiti. The Pacific just keeps throwing us better and better places
that we are all craving to return one day. In Tahiti we have plans to
watch the Billabong Pro Surfing event and catch a few flights..... But
that's for later.......

Until then....

Matt, Rohan, Nigel and Didi...

Lots of photos......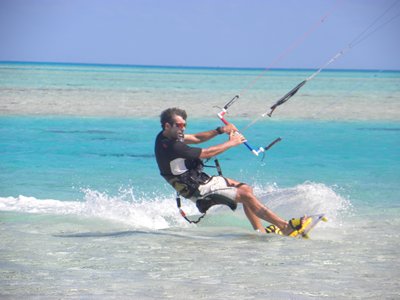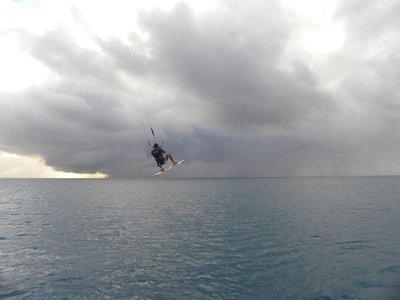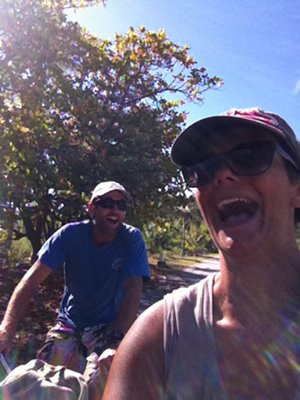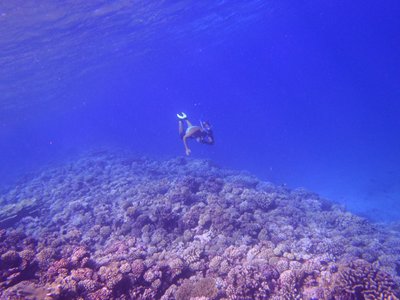 ---