Arrival in Ecuador - 22 July 2013

Providence
Matt Stafford and Rohan Buckley
Sat 27 Jul 2013 13:15
00:56.43 S 80:43.38 W
After our 1600 nautical mile leg from northern Chile, Providence and her crew safely arrived in Manta, Ecuador, on 22 July.
Cruising near Isla de la Plata, Ecuador coast
Getting to depart our last port in Chile - Antofagasta - was an epic in itself.  In order to depart any Chile port we have to gain permission (called a 'Zarpe') from the Armada.  Unfortunately the swell was deemed too large and the port was closed for us to depart!  However, despite the poorly protected entrance to the marina, in our opinion the swell had dropped sufficiently by high tide for us to leave.  Unfortunately this was not the opinion of the Armada Duty Officer (who, incidentally, was quite helpful)!  With no drop in the swell forecast for the next day, then five metre swells due for the next week, we were keen (more like desperate) to get out of the marina especially given the fact that the pontoons we were tied to were literally (yes – literally!) falling apart.  We were then informed that even if we made it out of the marina, the conditions off the coast were apparently dangerous.  After heavily petitioning the Armada duty officer and pulling the safety card (we were very concerned about Providence wrecking the pontoons with the surge, then wrecking herself on the rocks), we eventually negotiated our Zarpe and managed to depart at 5pm on 2nd July.  Oh, and as far as conditions off the coast were concerned, our major problems was it was too calm and we had to motor for almost three days to get anywhere! 
Luckily the wind picked up sufficiently and we had tail winds the entire way.  Ironically, winds going in the exact direction you are can prove to be less than ideal, but with a combination of goose-winging with the headsail pole and using the cruising chute whenever we could, plus some pertinacious (Rohan looked that up in the Thesaurus J ) helming from our crew, we had some great cruising north.  This passage was different in many ways from many of the long trips we have done in the past.  Not only did we not encounter any adverse weather this was first for us for quite a while that we did not have a deadline or a requirement to be at our destination, be it for meeting new crew, time or weather windows etc.  So despite being a slow trip it was one of the most relaxing so far, with great fishing and no major breakages ;)
Rohan had a birthday on the 9th and would like to take this opportunity to say thanks to Matt for his TWO cakes – chocolate cake and banana cake!

40 miles short of Manta we anchored at Isla de la Plata for three nights.  This island is situated in Parque Nacional Machalilla off the coast of Ecuador and is known as 'Poor Man's Galápagos'.  This is breeding territory for Humpback whales who come here from feeding grounds in Antarctica to show off and, as a consequence, provided us with hours of entertainment with their ariel antics.  We were also taken with the number of blue-footed boobies, frigates and other birds, on and surrounding the island.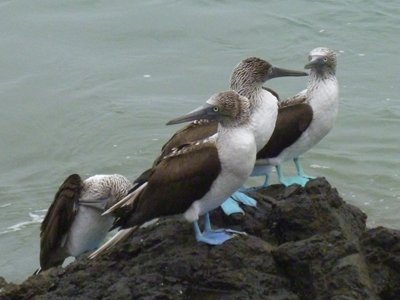 Blue footed boobies on Isla de la Plata
Arriving in the port of Manta was an experience.  The port is home to the second largest tuna fishing fleet in the world and the atmosphere was hectic to say the least.  Small tenders zig-sagging all over the bay between the hundreds of tuna boats that range from small 3 man run vessels that look like they have been on the water since the 1800's to huge multi-million dollar state of the art tuna hunters.  Sad to say from the looks of this that the tuna don't stand a chance!  Having completed entry formalities into Ecuador, we are now in the process of exploring Manta and its surrounds including Bahia de Caraquez and especially the potential for kitesurfing.  The beach at Marianita looks perfect and Matt cannot wait!  Rohan is nervously anticipating kitesurfing learning opportunities..
That's all for now.  Wish us luck in our quest for some quality kitesurfing..
Spanish study en route (osmosis method)
Best regards from Ecuador – Rohan, Matt, Julie and Nora
---