Arrival Falklands.... 51:41.43S 57:51.24W

Providence
Matt Stafford and Rohan Buckley
Sat 17 Nov 2012 12:23
Land Ho!!
The Falklands…… Sighted land on the morning of the 13th November after 9 days, sailing in clear blue skies and light conditions. The sail south has been one of the most varied passages yet with regards to the weather with the wind changing almost hourly. From blowing 25 knots to dead calm at times, we have ended up using the engine a lot more than we would have thought being this far south. On leaving Mar del Plata we had planned to stay close to the coast but conditions had us slowly put out to sea, but not too far. We had one decent blow (8 hours of 25-35 knots!!) that put the new crew through their paces but generally the conditions were light so we had made course direct to the NW part of the Falklands, the Jason islands.
Why there first?? The Jason Island group is home to the largest breeding colony in the world for the Black Browed Albatross and we decided we would have a look see. On arrival the islands, water and the air were full of Albatross as well as many other types of birds. There were also plenty of seals and dolphins to keep us company. A great day circling these islands before continuing on.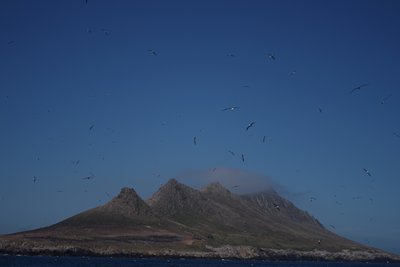 Taken from the NW showing Jason Steeple Island and how the Albatross filled the air.
Hard to see but from the grass line down are thousands upon thousands of nesting Albatross.
From the outer islands it took us another 35 hours to sail around the north of the Falklands to arrive at Port Stanley on the east coast. Here we will stay a few days and enjoy the weekend and what the town and area has to offer. Hopefully we will get a good look around and maybe get in a tour or two, which of course will include the tour of the famous English pubs on the Island ;). Then the plan is to spend the next few weeks bay hopping before sailing south at the end of the month for Ushuaia and Argentina once again.
Looking forward to it….. Rohan, Matt, Tina and Nigel.
---