Ecuador and the last days of 2013 for Providence... and photos.

Providence
Matt Stafford and Rohan Buckley
Wed 27 Nov 2013 22:24
00º 36.400S,080º25.200W
As usual it has been too long between diary entries, so here is an update with a few photos of our last days in Ecuador and our final days onboard Providence for 2103.
Ecuador…. What can we say!!!!!!! August can be summed up with one word: "kitesurfing!". We had decided that after two years of fairly constant sailing it was time to stay put for a few weeks and enjoy a nice beach with a bit of wind.
Before we left Chile we did some research about kiting in Ecuador, and found Playa Marianita to be just what we were after. Marianita has been an established kite beach for several years now and offered everything we were looking for…. storage for our kite kit, kite schools, bars, restaurants and of course wind. Unfortunately due to the nature of the beach (a lee shore with a slight onshore breeze with no protection from the swell) you could not safely anchor there for long periods….. nothing is ever perfect ;) ….. but we discovered a small but expanding fishing village a few miles north called San Mateo. Once a quiet fishing village, San Mateo has now an almost completed fisherman´s harbor designed to take some of the work load from the port of Manta and offered some excellent shelter for the yacht. When we arrived in Manta we visited the marina and met the manager and his staff who were very friendly and loved what we were doing. Since the marina was not fully operational and was not so busy there was plenty of room so he let us stay at anchor in the basin of the marina for free for the whole time we were there. We were quite a novelty us two gringos for the many fisherman who came in and out at all hours of the day and night.
The daily routine usually consisted of morning maintenance on Providence, a long but very pleasant and scenic beach walk to Playa Marianita (one hour), kiting, more kiting, another long walk back to the boat, more work on the old girl if required, then after all that usually a very early night ….. usually ;) . The walks to and from the kite beach at first had the potential to get very old, but turned out to be quite the opposite with the walk being a great warm up for the days kiting and the almost constant sighting of whales breaching and playing not far off the beach. It was magic stuff, and it did not take us long to settle in. A couple of weeks after arriving in Ecuador, Julie our long standing crew member from Puerto Montt departed for more South American adventures and we thank her for her help (and cooking J ) whilst on board. Good luck Julie!
Overall we spent a little over a month at Playa Marianita and had a fantastic time. The wind was good, though not as good as last season they say (… the usual!!) but was great for us so we had a blast kitesurfing. Rohan´s kiting improved leaps and bounds and now can confidently kite alone in all conditions, and Matt was able to fine tune and smooth out his riding and now doing a few more tricks without breaking too much of his body ;). Kiting was a big part of it but what made it whole was the people we met. We got to know a special bunch in Marianita, so a big thanks to all on the beach from the staff (Cheers Kite Villa, Donkey Den and Oceanfreaks) to instructors to fellow tourists and kiters that made our stay so much fun.
As always good things must come to an end… for the kiting that is. For us it's near the completion of our second year cruising and sorry to say to our respecting Mum´s it is going to be hard to stop based on the time we have had so far;). Next year is the Galapagos Islands and the Pacific and we both need to do some work to fund year three of our most excellent adventure. With this in mind Rohan left the yacht in early September for Scotland via Sweden (for a wedding) and will be working offshore as a Surveyor whenever possible. Matt stayed on a few more weeks before moving the yacht 35nm north to Bahia de Caraquez (cheers Andy and Yvette for the help in doing this) where, at Marina Amerstad, she will be stored for the next 6 months. After prepping the yacht for long term storage Matt went to Colombia for a few weeks to see some old mates before returning to Australia to see family and friends at the end of September. In November he will return to Argentina to skipper an Antarctic charter yacht for the season.
So, after two years of sailing adventures, Matt and Rohan are temporarily returning to the real world. It will be a tough few months (well, Matt's job sounds ok!), but at least it will fund next year's sailing across the Pacific which will start sometime in April. We have already started researching kitesurfing spots J.
Tchau for now and keep loving life – Rohan and Matt
Some photos..
Fishing boats at nearby Manta: second largest tuna port in the world
The big tuna hunters… just some of them. The poor tuna don't stand a chance!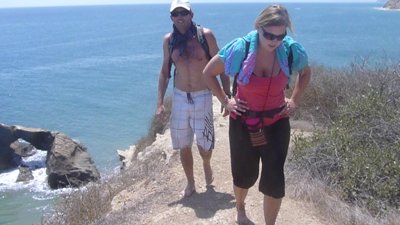 The walk from San Mateo to Marianita with our friend Jessica
Kiting at Playa Marianita… Loved it!!!!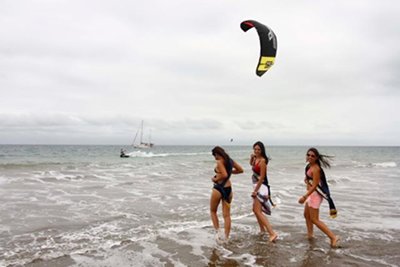 Miss Continental was hosted at the beach in early September… That was a nice few days.. ;)
When not at the beach.. always plenty to do on Providence. Steel boats!!!!!
Celebrating Matt's birthday with new friends at Vila Kite
Social sailing (unfortunately we didn't manage to photograph the nearby jumping whales)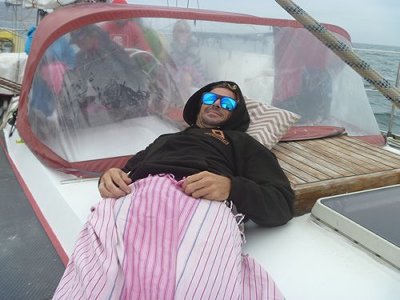 Some of our crew members required special care..
Farewell drinks at the Donkey Den for Rohan. It was sad for Rohan to be leaving the beach and this great crowd, however he did manage to fit in some mountain biking before leaving Ecuador, and went to an amazing wedding in Sweden en route to the UK..
Cotopaxi, Ecuador
Thanks Linda and Chris!!
Jose, Nuria and Dani at their best.
Paul and Anna.
Matt´s send off at the Donkey Den
Two of the local Characters….. Lucian and Brian (aka… Pulpito..)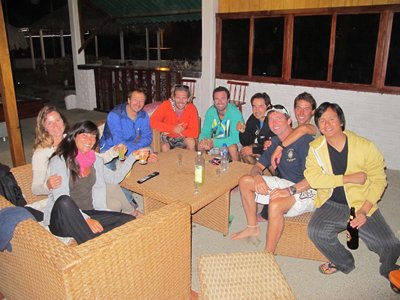 Matt´s send off at Villa kite…
The crew to help me take the yacht to Bahia Caraquez… Cheers Andy and Yvett
We had such a great time… cheers to all and keep loving life……
---