38:02.45S 57:32.28W. Friday the 26th October 2012. Buenos Aires, Rosario and Mar de Plata, Argentina

Providence
Matt Stafford and Rohan Buckley
Tue 30 Oct 2012 21:47
Leaving off from the last blog, Sallie left us in Buenos Aires and we got stuck into our ever expanding work-list for the yacht in preparation for the southern sailing. We had planned to lift her out of the water to apply a fresh coat of anti-foul but were unable to due to all the yards in the area being full or too much bureaucracy. The anti-foul was not a show stopper so we will plan to do that next year in Chile, and in the meantime carry on with the rest of the work.
Matt at work trying to maintain the wind generator whilst aloft…. Jury is out on how that went ;)
Another mate from Australia, Nigel Heath, arrived on the 2nd October not long after Sallie had left to give us a hand and join us for the next three months on the sail south to Antarctica. Nigel had kindly brought one or two Australian products for the pantry, and he cheerfully arrived with the following:
As a show of gratitude we put him to work, fixing the forward hatch, the very next day!
We had moved Providence north, from near the city of Buenos Aires, to San Fernando – a major yachting area for Buenos Aires full of marinas, and associated facilities, to make good our proposed repairs and improvements. Not as busy as 'downtown' Buenos Aires, we still enjoyed the local area including the local bars and art scene.
Meanwhile… Tina had managed to acquire tickets to the Pumas Vs Wallabies Rugby match on the 6th October in the city of Rosario. This was to be a welcome break from the boat, and after rendezvousing with Tina in Buenos Aires, Nigel, Matt and Rohan headed north to Rosario on a bus for four days. This was the farthest inland Matt and Rohan had been, and longest time spent from their beloved boat, since November 2011. Rosario is a town on a large river and a major port for the area where large sea-going ships can navigate all the way upriver, quite an impressive sight. It is also the capital of the area and the place the Argentinian flag was first designed and a large monument is in place in honour of this. There was also a large monument to the Falklands Conflict in Rosario (as with most Argentinian towns) and proved very interesting for us considering where we will be sailing.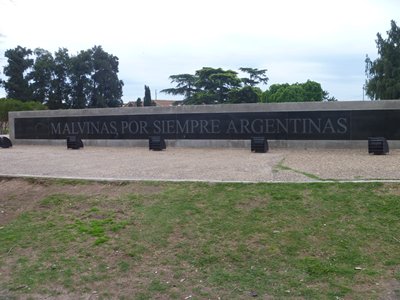 "Malvinas for always Argentinian"
After the compulsory cultural tour of the local bars and cafes, it was soon time to don the Australian colours and fly the flag at the game. What an atmosphere! The locals were very friendly, and genuinely appreciative that we were there in their hometown to watch the rugby, and there were plenty of Aussies in town to watch the game. There were handshakes, thank yous and many a photo…… We have never had so many photo requests with strangers, before, during and after the game!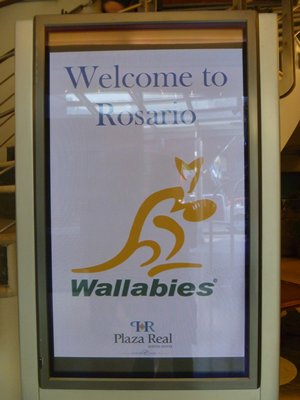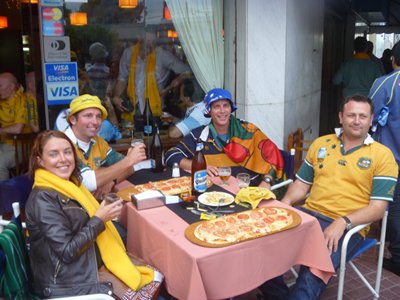 The game itself was enjoyable (Australia won J ), and the enthusiasm of the entire crowd was something to remember. Loud and passionate yes, but not ugly or aggressive as the Australian press had put it.
After the rugby it was back to San Fernando and the work list. In that two weeks we did some solid work on the yacht and she is once again as good as she can be considering. We also managed to fit in one more sporting fixture and went to see the local Boca Juniors (Maradona's old team) play at home. Though a wet and scoreless game, it did not stop the crowd being passionate and as vocal as any other time and puts no doubt into what is the national game here. An amazing atmosphere that rivaled anything we had seen yet, including the football in Brazil or the Rugby in Rosario.
As with every place we have stayed, it is the people you meet that make a difference. We met many locals who were more than willing to help us at every turn, with a special thank you to Marcela with her gift to the yacht. Another special mention goes to our neighbours at the marina who were a lovely older cruising couple from Germany who were spending a few months getting their yacht ready for their own trip south. To Rainer and Daphne we would like to say a special thank you for their generosity and friendship in our time there and wish you luck with your own adventure.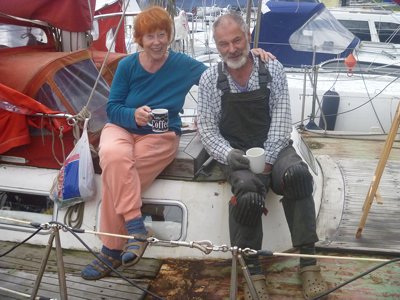 Rainer and Daphne from yacht Lojan, and the crew of Providence
Marcela's art being exhibited
After a short period waiting for some bad weather to pass, we departed Club de Veleros Barlovento for Mar del Plata on 23 October. This was an enjoyable sail south and a good opportunity to break Nigel in to what Providence is all about.
Nigel modeling the latest in offshore fishing kit, moments before feeding the fish
Now in Mar de Plata the plan is to rendezvous with Tina, re-stock and continue to prepare Providence, do some local sightseeing, and deal with the paperwork that comes with departing Argentina for the Falklands (or Islas Malvinas depending on your political point of view..). We hope to depart in one week…….
Wish us luck!
Matt, Rohan and Nigel
---