Arrival Viña del Mar, photos from Puerto Montt - 13 Ma y 2013

Providence
Matt Stafford and Rohan Buckley
Tue 14 May 2013 15:57
32:55.7 S 71:32.4 W
Providence has arrived in Viña del Mar!
After bashing our way out to sea to avoid a system to the north and some weather off the coast of Chile, we have had a magic sail with strong southerlies and the Humboldt current giving us a good run.  Those that have sailed with us before won't believe that conditions were with us for once, but it is true!
We arrived the evening of 13 May and although we have just spent a month on the hard working on her there are always plenty of jobs to get done on the boat.  However, we are looking forward to exploring the local area including Valparaiso – described as Latin America's most unusual city (could be interesting..).
In the meantime, here are some more photos from the boatyard at Puerto Montt which shows the old girl's transformation, our visa-run to Bariloche, and the sail north with our new crew member Julie…
Getting ready to paint
Meghann and Rohan sneaking a 5 minute break!
Progress.. Primer undercoats on for both the anti-foul and the hull (in white)
Start of the anti-fouling.  Blue sky and no rain for a change ;)
Carolina having a break from helping out ..
Finishing touch to the rudder the morning of re-launch, and the lads impatiently waiting for the travel lift crew
Chris from yacht 'Storm Bay' helping to beef up our genoa – thanks Chris!
Rohan, Nancy and Matt after walking up Cerro Otto, Bariloche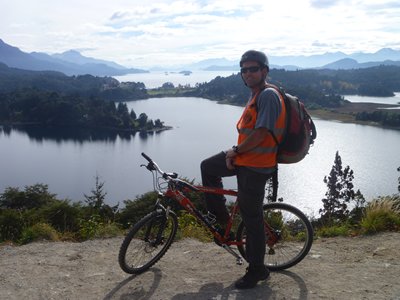 Beautiful scenery during a bike ride near Bariloche
Dinner in Puerto Montt with (clockwise from Matt): Thomas and Frauke (yacht 'Walkabout'), Chris and Margie (yacht 'Storm Bay'), Julie & Rohan & Matt (yacht 'Providence'!)
So, here is the transformation..
from this
to this..
Our lovely new green machine…. And why green, well it is very Aussie of course….. and the colour was on special ;)
And a couple of photos of Julie demonstrating her helming skills during the sail north:
Finally, this morning 100 miles south west of Valparaiso we clocked 20,000 nautical miles since we departed Ardfern, Scotland, on 23 November 2011.  When we departed it was all about  the places we were going to visit, but we quickly realised that it's the people you meet that make the journey special (..I have something in my eye…).  So, to our families and friends for your support, and everyone we've met – fellow cruisers, super yachties and charter crews, kite surfers, marina staff, travelers and trekkers, new friends and hosts, and everyone we've forgotten here.. – thanks for everything!  And, of course, a HUGE THANK YOU to our wonderful crewmates that have sailed with us during the last 18 months!!!
More to follow soon..
Rohan, Matt and Julie
---