Hauled out in Puerto Montt - 14th April 2013

Providence
Matt Stafford and Rohan Buckley
Mon 15 Apr 2013 00:20
Since our last diary update we have worked and played hard.
We met up with a superyacht crew that we'd met in Ushuaia and Antarctica, and Matt just happened to know the Engineer, who showed us their favorite night spots in Puerto Montt, hosted us at a great bbq, AND took Tina, Matt and Rohan for a flight in their seaplane! (don't all boats have a seaplane stored on the aft deck?!)
Their tender has 695 horsepower more than ours, and can go a little faster
Rohan doing it tough on a Sunday..
Matt in the right-hand seat.. BIG smiles that day J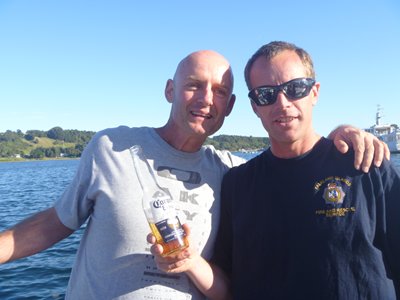 Matt's old mate Norm the Engineer and Rohan recovering from the night before using the traditional method.
Unfortunately it was time to say goodbye to Tina as she had to return to the world-of-work in Australia. Tina had been on and off the boat since the Caribbean and sailed nearly 9000 miles with us. We have had some great times, visited some amazing places, and met some characters along the way. We will miss your organization, cooking and individual tacking technique! Good luck in the real world, we miss you (and have so many jobs for you here!!). Thank you, thank you, thank you.
After too much fun it was necessary to give Providence some much needed TLC. We moved to Club Nautico Reloncavi where we had organized a haul out onto their hard-standing. This was the first time we'd had the boat out of the water so was a little nerve racking..
Although we lacked the America's Cup crowds of 1983, we were as excited as Ben Lexcen as Providence cleared the water.
The main reason for hauling out is to re-do the anti-foul and top-sides paint (as you can see from the above photo it is definitely due!). With a very long list of other jobs to get through we are blessed that our Aussie friend Meghann, from the Antarctica yachting scene, has joined us for a couple of weeks to help out.
Meghann enjoying her holiday, Providence style.
Needless to say, before the boat starts to look ship-shape everything, EVERYTHING! seems to be dismantled and it feels like the old one step forward, two steps back routine. However, progress is being made and we look forward to posting photos of the old girl with a fresh coat of paint (and hopefully re-assembled..!). In the meantime here a few more photos of us living the dream:
Matt the Electrician
Matt da Vinci
Progress under the waterline..
Will keep you updated, and also post some photos of our previous adventures in the Chilean Channels – keep an eye out..
Tchau for now – Rohan, Matt and Meghann
---