51:43.39S 61:17.90W. Thursday the 29th November 2012. New Island in the west Falklands.

Providence
Matt Stafford and Rohan Buckley
Fri 14 Dec 2012 23:45
After we left Sea Lion Island we sailed to George Island for a better anchorage as there was some nasty weather on its way. It took us all afternoon of the 25th November to sail to the George Island anchorage and dropped anchor at 2130 in already blustery conditions as the predicted bad weather was coming in fast. For the next two days we stayed at the anchorage riding out the gale force winds that made us drag a few times at, as always, the most un-called for times of the morning ;). We sailed for New Island early on the 28th after the winds had eased of somewhat, but it was snowing! We did not go ashore on George Island due to the weather and the fact we had to keep a schedule for New Island which offered more to see and do.
We arrived at New Island about midday on the 29th and anchored off the settlement there. When we say settlement, we mean 4 or 5 buildings which include a barn and a guest house as well as the main house; the most westerly settlement in the Falklands. We went ashore that afternoon and after meeting the managers of the settlement and a quick brief on the do's and don'ts we spent the next few days having a fantastic time trekking all over this amazing islands with its grandiose views and abundant wildlife. We even had a few of the locals and a resident scientist (3 in all and at the time: the total population of the settlement) over for a few drinks one night which was a good laugh for all involved.
With time of the essence (as always!!) we departed New Island early on the morning of the 2nd December and set sail for the le Maire Channel and Ushuaia. If all goes well we should be there by the 7th December giving us 10 days to prep for the next leg….. Antarctica. We shall see…………………
Matt, Rohan, Tina and Nigel.
See below some photos of our stay in the Falklands. I hope we don't overload you with photos of wildlife but it is so hard not to considering what we have seen and going to see. Enjoy in any case…..
A fur seal came up and gave Matt a good look and sniff… , and some more fur seals below…
Elephant seal
HMS Sheffield memorial
The rare Stricated Caracara
Black Browed Albatross
Rockhopper Penguin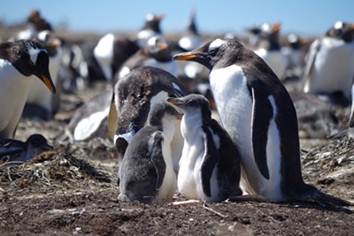 Gentoo Penguins
A day out at New Island with its fantastic views and scenery… magic!
The settlement of New Island. An example of how small and isolated they are on the islands…. And our anchorage there….
… and below a couple of shots of the residents (at that time ) of New Island onboard for a few drinks. All three had a great time…. Cheers Georgina, Sam and Liz
---