Viña del Mar to Antofagasta - 4 June 2013

Providence
Matt Stafford and Rohan Buckley
Thu 6 Jun 2013 19:33
23:38.6 S 70:24.0 W
Greetings all from Antofagasta, northern Chile.
After arriving in Viña del Mar, near Valparaiso, on 13 May we had ten days to do the usual boat preparation for the next leg and have a look around the local towns of Higuerillas, Con Con, Viña del Mar and Valparaiso.  We were there during the 21 May War of the Pacific celebrations and witnessed the large parades in the port area of Valparaiso (the Chilean Navy HQ).  They do like a big military parade here ….. well….  those not involved in the local riots against the military regime that we saw on tv anyway ;)   Before sailing Rohan and Julie also managed to fit in a short walking tour around the steep hills of Valparaiso, whilst Matt departed for a week in Las Vegas with a few mates.
The hills of Valparaiso looking towards Bahia de Valparaiso
The hills above downtown are connected by steep footpaths and ascensores (elevators)
Plenty of graffiti in Valparaiso
Rohan showing off his Royal Navy hat whilst getting our Zarpe (permission to sail north) from the Port Captain's office.  You can see how impressed the Duty Officer (dressed up for 21 May parade) is by the _expression_ on his face..
A nice brand new 'plastic fantastic' yacht, moored next to us in the Club de Yates, had its maiden voyage.  The owner and his family invited us on board for a sail and champagne.  Hard to refuse!
Whilst Matt was in Las Vegas, Rohan and Julie sailed north stopping at a number of anchorages along the arid coast.  The 4 on 4 off watch-keeping was a challenge to the two remaining crew but fun was had by all.  One picturesque anchorage worthy of a couple of night's stay was Islas Damas – part of a national park for wildlife and sealife.  They were treated to white beaches, whales, dolphins, cacti, and many types of sea birds including the Humboldt penguin which we hadn't seen before. 
Our anchorage at Isla Damas
Humboldt penguins on the nearby Isla Choros… the ones in the middle ;)
Another lovely sunrise from the deck of Providence
Rohan and Julie rendezvoused with Matt (who was all the healthier after his days away…. ;) ) in the Port of Caldera on 30 May and departed a couple of days later for Antofagasta.  With good southerly winds, and more forecasted, it was promising to be a quick and enjoyable passage…. we should have known better!  Fifty miles out to sea, at 2am (of course) Julie lost all steering in 20 knot winds and moderate to heavy seas, and Matt and Rohan were soon up with the sound of flapping sails and a horrible boat motion.  Upon investigation we found that there was a problem with the connection between the steering mechanism and the rudder post, and the emergency tiller was soon rigged.  Unfortunately we can only access the emergency steering from the aft cabin so a large amount of co-operation was required to steer and navigate our way back to the coast.  Because you cannot see whilst at the emergency tiller, you also needed someone on deck to shout down through the aft hatch any steering instructions, and because it was heavy going at the tiller we took 20 min turns between on deck, the tiller and a short break…. So between the three of us it was nonstop until we reached a sheltered bay to commence repairs. 
After 14 hours, exhausted and relieved after the physical exertion of hand steering our heavy boat via a short tiller, we arrived in a sheltered bay off the village of Taltal in the late afternoon of the 2nd June.   This was the first time we have had to use the emergency tiller and though hard going in a long and heavy following swell it worked well.   At the time we could not believe the situation we were in and tired we felt, but in hind sight it could have been a lot worse, a lot longer, and with much different weather conditions… imagine if this happened in the Drake Passage!!!   Fortunately we had the tools and spares to effect a repair the next morning and were able to depart safely on the same day for Antofagasta, arriving at 1pm on 4 June.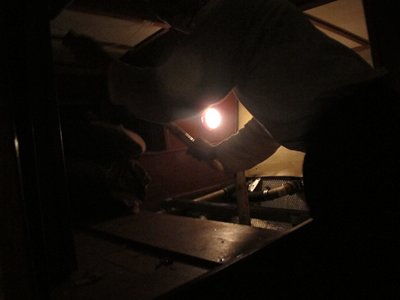 Emergency steering in the dark – heavy tiller and no view outside!
Fixing the steering at anchor off Taltal – Matt armed with grinder..
The plan now is to leave the boat moored at the yacht club in Antofagasta and make our way inland to Peru, and possibly Bolivia.  We're all quite excited getting into backpacker tourist mode.. should have plenty of photos after this excursion!
Stay tuned – Matt, Rohan and Julie
---