Departing The Marquesas

Providence
Matt Stafford and Rohan Buckley
Thu 17 Jul 2014 13:55
15 July 2014
As usual, we have been busy! After arriving in the Bay of Virgins, we took the opportunity to explore the islands and communities of some of the other Marquesas Islands.
Carolina with the locals after going to church in Fatu Hiva
After 'checking in' with the local Gendarmarie in Hiva-Oa, we had a short sail to the island of Tahuata as we had had a bay recommended to us. We found what we were looking for - white sandy beach, snorkelling with manta rays (and the odd shark!), and the ever-present friendly locals. Not bad..
Upon returning to Hiva-Oa for supplies etc, we celebrated Carolina's birthday in style - pizza restaraunt!! Also, we were delighted that Didi was able to re-join the crew. We were not envious of her multi-day travelling from Italy, but trust that sailing in paradise has been worth it :)
Atuona
We enjoyed the hospitality of the main town, Atuona, for a few days but with so many other bays to expore we circled the island visiting Baies Hana Menu and Hanaiapa. Fresh water pools in rivers, free horse rides, lunches with locals, watching cocunuts being harvested, enjoying hosting and being hosted by fellow cruisers - you get the picture....
The final island we have visited in the Marquesas is Nuku-Hiva. The town of Taiohae has been having a large number of festivities leading up to 14th July, and has been a great place to meet new yachties. It is always good to escape the crowd though, and we spent a couple of days on the other side of the island in Anaho Bay. Absolutely beautiful, including SCUBA diving off our swim platform, yet another lunch with the locals, and a great walk to the village in the adjoining bay.
Unfortunately Carolina had to leave us upon our return to civilisation, and flew to Tahiti in search of work. We loved having her on board and wish her the best of luck. We are debating who will have to make the bread now... Thanks Carolina!!!
Work never stops maintaining our beloved Providence, and on 13th July we put her against a concrete wall in Taiohae and waited for the tide to go out - there are no fancy marinas here! Having never done this before, there were quite a few nerves going around, however with help from everyone we managed to tick off a few of the more difficult jobs on the jobs-list :) It is always great to see the locals and yachties rally around you when you need help - even when they are not asked for it. Thanks everyone.
After one month in the Marquesas we sadly have to move on. Everything about this island group had grabbed our imagination in more ways than we could have expected. The beauty of the islands has been breathtaking and the hospitality of the locals, especially in the more isolated villages, has been like nothing we have ever experienced by a group of people in general. You can't walk down a road or track and meet a smilling local without being offered fruit, drink or shade.... We all could learn something from these people. The plan is to visit one more bay on our way out to collect water and visit a waterfall, then a 550 mile sail to the Tuamotu Atolls. We always have mixed emotions about leaving places like this - it is obvious why cruisers always vow to return to the Marquesas Islands - yet we are keen for kitesurfing and diving in some amazing atolls.
We will try and update the blog more often - internet access permitting!
Will post soon,
Rohan, Matt, Nigel and Didi
Some more photos...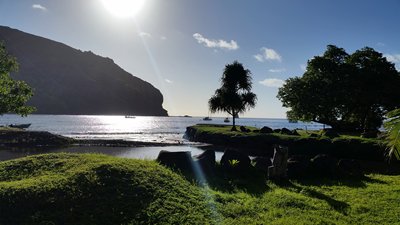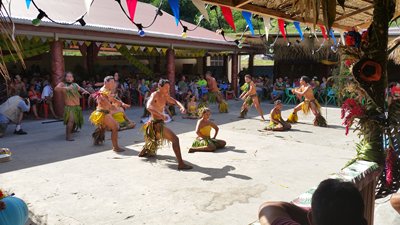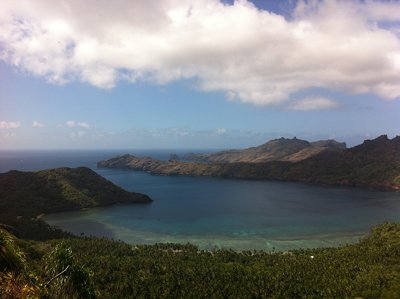 ---