52:25.39S 59:03.56W. Saturday the 24th November 2012. Sea Lion Island in the south east Falklands.

Providence
Matt Stafford and Rohan Buckley
Fri 14 Dec 2012 23:40
After nearly a week in Stanley we left on Thursday the 22nd November, a little later than expected, due to being port bound by weather for a few days. Even so it was a great stop-over in the island's capital having a look around which included a 4WD tour of Darwin and Goose Green which had seen some of the heaviest fighting of the 1982 war.
Because of the conflict with Argentina the people of the Falklands are the most feverously British patriots we have ever seen. The amount of flags, car stickers and any other British paraphernalia displayed on a daily basis here would match any town in the UK during the Queen's Jubilee or any similar occasion. A very proud and friendly bunch who like who they are and don't want it any other way. We also continued to meet other cruisers and charter boats that work in the area who, as always, proved to be a friendly and sociable lot with a great source of information for our trip south.
Nigel in one of the local pubs… see the many flags!!
Another local and see how British they are…..
The Argentinian President at the time of the war. This picture was in the gents and framed by a toilet seat… Say no more… ;)
We arrived in Sea Lion Island after the usual mixed bag of sailing conditions in the late afternoon of Friday the 23rd November. It was freezing cold when we anchored as the wind had increased from the south and would stay that way for the next few days…. something we will have to get used to. The highlight of that evening was a pod of killer whales that came within a hundred yards of the yacht hunting seals in the kelp beds that surrounded us. None of us had seen Orcas before so despite the horrible conditions we all stayed on deck watching these amazing animals for quite a while.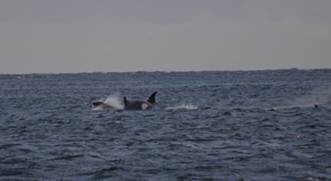 We stayed at Sea Lion Island for two days doing trips ashore looking at the incredible amount of wildlife on show, from Elephant Seals to King Penguins who in general seemed to have no problem with people wandering near them taking endless photos.
There was a lodge on the island that had several guests which included a filming team from Discovery kitted out with everything including dry suits for swimming/filming with the Orcas!
With reports of bad weather and gale force winds closing in on the area in the next few days we have decided to sail to George and Barren Islands 20nm to the NE for shelter and a better anchorage. We could have stayed a lot longer at Sea Lion Island but it is best we move. Let's see what happens shall we…. ;)
Cheers from Matt, Rohan, Nigel and Tina………
PS…. On the 22nd of November was one year since we have left Scotland. Hard to believe we have made it this far and proved time certainly does fly when you are having fun…. ;)
---