Torres del Paine 'W' trek, March 2013 - photos

Providence
Matt Stafford and Rohan Buckley
Mon 15 Apr 2013 00:26
Below are some photos of the 'W' walk we did in the Torres del Paine National Park. As we have previously said, it was much more crowded than the Isla Navarino walk (not really a true wilderness experience), however the scenery was amazing and we met some great people.
After a very early start, here we are waiting impatiently in the cold for the sun to shine on the Torres. Yes, Nigel is wearing shorts (it was freezing!)
Nigel (shorts!), Rohan and Tina enjoying the view as it finally starts to get light..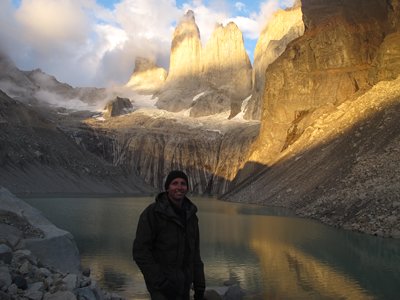 Matt and the sun. It was worth the wait
As you can see, not exactly rough camping with tent platform, rubbish bins etc. Yes, beer and meals are available in the building behind.
Big mountains when the clouds cleared..
The view of Lago Grey and spectacular glacier. This was the last leg of the 'W' for us
Our last 'campsite', which featured a cooking area, hotel, bar, restaurant, shop, internet and ferry pier. We used all the services provided (apart from the hotel) – when in Rome… !
Before we caught the ferry to the bus pick-up, the clouds lifted to reveal this!
Another great opportunity to get 'inland' for a break off the yacht – well worth the effort J
---