34:52.50S 55:16.85W. Wednesday the 12th September 2012. Piriapolis, Uruguay

Providence
Matt Stafford and Rohan Buckley
Thu 13 Sep 2012 00:34
Reluctantly we departed Florianopolis on the 5th of September which was an experience in itself. Ilha de Santa Catarina (Florianopolis) is separated from "the Continent" by two bridges, one of which is only 17m high. Having been unable to confirm this figure with the local "authorities", and being forced to trust our measurement of our mast height as being 16m, we approached slowly with caution.. Success! We still have our wind indicator…..
After negotiating shifting sand banks south west of the island, we hoisted our sails next to a whale and her calf and heading back into the South Atlantic. After several weeks at anchor we had to get our sea legs back as such, and as usual the Atlantic made that happen in good time. The first few days gave us some amazing sailing as the wind conditions were such that we literally surfed our way south at some of our best consistent speeds yet, managing average speeds of 8 knots and some great day's runs. Not bad for an old iron tub sailed by two forty-something old farts ;) Fun as it was, it did not last. As usual she (the Atlantic) once again showed her teeth and the consistent near perfect sailing conditions turned very quickly to storms, squalls, heavy seas and sleepless days and nights….. Love it!!!!! It also started to get cold and for the first time since the northern Atlantic we have been putting our cold weather kit on at nights…… a sign of this to come me thinks?
Regardless of it all we kept a decent pace south-ish, even during the last 24 hours when the wind dropped forcing us to motor sail, and after six days we entered the Rio de la Plata relatively unscathed for a quick visit to Uruguay. Our first visit was to Isla de Lobos, off the coast of Punta del Elste, to check out the large colony of southern fur seals and sea lions. Suffice to say, if this is any indication of sea life to come as we head further south.. amazing! See photos below..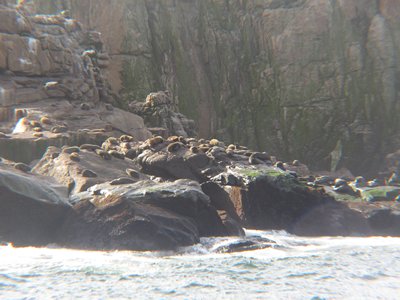 We are currently in Piriapolis after an overnight rest anchored off Punta del Este. We need to check out some yard facilities for future maintenance, then off to Buenos Aires. And we have heard some good things about Buenos Aires!
Time to dump some Portuguese, and learn some Spanish… until next time,
Rohan and Matt and the good yacht Providence
---