Puerto banus (jose)

Heerenxvii
Thu 30 Sep 2010 09:38


36:28.85n 04:56.96w

A.
We made it to Puerto Banus, and how!

After leaving Benalmadena and Torremolinos behind us, we motored offshore with no wind, and then sailed with the wind in our "back" a "zeeuws meisje" , meaning a sail on each side of the boat, towards Marbella and the Puerto banus.

Wind picked up to 4bf and we were doing sometimes 7 knots westwards, pretty cool :) although it made the boat swing from left to right, a recipe for getting sick, but we were good.

>From afar, the south, "matter" started to form. It was unclear wether this was coming our way, if it was rain or smog or fog or a UFO. But, it became clear in about 5 minutes.

As a precaution, we started the engine, switched on the radar, dropped the main sail and rolled in the jib halfway. We then got the manual on safety, sound and light signals and waited.

The sun disappeared, the matter surrounded us and there was no wind anymore. The fog kicked in very very quick. So much so we reduced speed to 3 knots and put on our life jackets. All we now could see was the boat and sometimes a bird circling the boat for a safe landing?

G enjoyed this quiet, calm, steady, non heeling experience, possible because she took on the o so import role of blaster! Tuuuuuuuuuuuuuuuuuuuuuuut, Vessel making way!

We looked up three other manoeuvres, just in case we would encounter another ship. They were. Tuut, startboard turn, Tuut Tuut, for port turn and Tuut Tuut Tuut for Engine Running Astern, ie ship maybe still going forward but we are trying to slow down or reverse.

This all happened about 2 miles from Puerto banus so we tried contacting the Torre Control there to hear about the visibity and if it was safe to come in, but lack of spanish caused non-information. So we decided to keep on tuuuuuuuuuuuuuuuuuuuting.

Half an hour later we first heard other ships making way. Looking and listening intensely to understand where and what these boats were doing, while tuuuuuuuuuuuuuuting ourselves ofcourse, we suddenly spotted the ferry. This happened after we were cruising using the radar, to find the marina entrance. just as we were approaching the marina entrance we saw him, and as we were just turning into the marina from the east and he was about to go north, we moved to tuut, he moved to his tuut and there was no problem. Capice?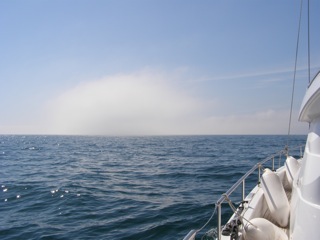 ---