Fwd: Almost the end...

ALKIRA
Charles & Maggie Bevis
Fri 18 Aug 2017 12:02
Friends Karen and Phil flew home on Wednesday and since then I've been hounding all the shops in this small town for cardboard boxes - to cut a long story short, Charlie thought we'd have about 2 cubic mtrs of stuff to ship home, the reality is that after two long and very hard days work, we have finished packing almost everything that isn't included in the sale of Alkira and the result is that we have approx a ¼ of a ton of stuff packed into 14 boxes!!! Got that wrong didn't he?
Over the past few weeks we have endured some of the strongest and most prolonged winds we've ever experienced, which made planning our ports of call and itinerary a bit more of a challenge. However, despite the winds, we've successfully visited almost all of the planned ports with the exception of Mykonos and sailing around the bottom of the Peloponnese - it's been "grand." A good year and a great way to finish our 5 year plan, with absolutely no regrets.
The last week has been really hot so the boat becomes uncomfortably hot during the afternoons - much more noticeable whilst we've been so busy packing. Thankfully, the hardest part is (we think/hope) now behind us. The winds this week have also been uncharacteristically strong, every day we have a northerly force 6 which blows in violent gusts from 10 o'clock until 6 pm. Fortunately the berth we have secured here is reasonably sheltered.
Our next task is to
clean the boat thoroughly from top to bottom, in readiness for the handover to the new owner
on 1st September
. In the meantime we're hoping the temperature will take a bit of a drop!
We'll be staying here for a few more days in Ermioni, then onto Porto Cheli before our final port at Kilada, northern Peloponnese. We fly home on the 4th September, arriving at Stansted at midnight! We've booked a car to get home, so hope to be tucked up in our cosy bed around 3 am!
We're now very much looking forward to searching out and progressing with our Plan B, so as ever, we will still be busy.
Maggie & Charlie
S/Y ALKIRA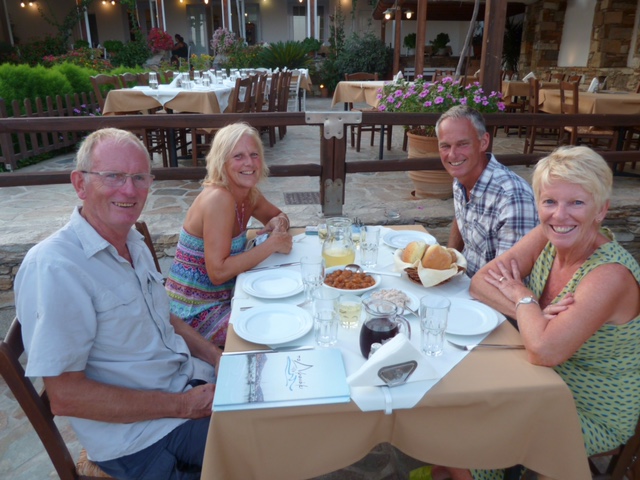 The motley crew!
Just one of many glorious sunsets...
A walk around the peninsula at Ermioni, Peloponnese
Main town on the Island of Kea
Back to one of our favourite ⚓️'s and an Isthmus!
A wooden bicycle?
Another delicious salad - we're turning into 🐰
Karen was the first victim - (see above)
The 14 boxes of "stuff!"
---