20 August, 2015 – Trizonia, 38:22.11 3N 022:04.602E

ALKIRA
Charles & Maggie Bevis
Thu 20 Aug 2015 18:35
We are now on mainland Greece, in the Gulf of Corinth, and today we stayed in port because it was blowing "old boots' outside and we have a comfortable free berth on the lee side of the harbour mole.
To recap - After circumnavigating Kefalonia we came to the conclusion it is not our favourite Island. The east coast is so busy and Fiskardo is unbearable. But we were still cruising with Di & John and enjoying having their company for so much of the summer. We spent one night with just our boats anchored in a tiny bay, with lines ashore, about ½ mile south of the latter and went up in the dinghy to see – that was quite enough. Whatever beauty the place once had has been lost in the construction and operation of restaurant tavernas which successively line the water front and the jealously guarded berthing spots:
Q - Big or ostentatious boat with obvious money? A - please come in and berth here.

Q - No money? (Is your name Maggie & Charlie?) A - F... off!




ALKIRA & PYXIS south of Fiskardo - no crowds here - clear waters, good swimming - great!



On passage to Asos
So (and with no regrets), we continued anti-clockwise around to the west coast and to Asos. Very pretty little town overlooked by an ancient Venetian fort, but a difficult place in which to anchor successfully as the sea bed is covered by dense weed. The place also features a squadron of specialized mosquitoes trained to find exposed yacht flesh during the dark hours – after one sleepless night we left, scatching ourselves as we sailed away. (Thankfully, the little blighters aren't in every port of call, so we heal pretty quickly).
A view of Asos seen from the Venetian fort overlooking the town
Holiday home to let - 1 careful Owner!
We continued south to Argostoli. A modern town well served by shops and stores, but quite scruffy and with little character. We had two nights there, paying the princely sum of €7.80 (including VAT) per night; our reason for staying the second night was to have a final rendezvous with John and Di on PYXIS.
Having taken our leave of Di & John, we crossed to Ay Nikolaios in the north of Zathinkos (Zante). Here we were welcomed at a crowded quay side with free berthing, free water and free electricity. Our washing machine then burst into life and didn't stop for hours!! Services are provided by the adjacent taverna run by a family who operate a small shop, a petrol station, tours to wreck bay and the nearby caves and, of course, their own taverna (Dimitris) – sadly the latter is poor value, but we did enjoy their water and electricity! On our second night, we watched a dance festival with competing entrants from various islands.
The Sound of Music?
There has been much debate on board Alkira concerning our winter booking in Crete and as a precaution we have been obtaining quotes from suitable alternatives as we made our way southward. Our doubts were raised about Agios Nikolaos in Crete by reports that last winter had been bad for weather and the boats in the marina were subjected to heavy surge on their moorings, caused by swell entering the port. Reports of snow and ice on decks weren't particularly appealing either, along with various reports of damage being sustained. As we plan to be home this winter for 3 to 4 months we felt that leaving the boat afloat under these circumstances was a risk we would prefer not to take. In the meantime, Charlie had obtained a quote from Messalonghi marina at the west end of the gulf of Corinth, so we called there after leaving Zante to check it out as a potential alternative to Crete.
Messalonghi marina is now well established and offers good facilities at a reasonable price. Decision now made and we have booked the boat in for 6 months here, split between time afloat and unto 4 months ashore. We can fit the winter covers and leave the boat ashore in a cradle while we are home in the UK - we are feeling much happier having made this decision, but disappointed not to be in Crete. However, there's still next year.
Messalonghi is an inland commercial port in an inland lagoon, positioned some 2 miles from the sea and accessed by a canal. The town is about ½ mile inland from the port. It's not a tourist area, so life in the town continues through the winter months, in fact, we're told it's very lively and much more so than during the summer – but we'll only be there in the autumn and spring, but hope to find time to enjoy what the town has to offer.
At Messalonghi they have their own mosquito air force, presumably based in the marshes by the canal! Hopefully by October they will have eaten enough and have vacated the port…. After 2 days in our now booked and paid for winter base, we chose to move on again and sailed westward toward Athens, with a view to collecting Ann when she arrives next week. We knew she wouldn't be able to resist a trip this year, better late than never eh Ann? We're now looking at how to get to Athens airport on the 26th.
The sail eastward was a day of contrasts. We left in a flat calm, with no wind, and motored over a glassy sea toward the narrows where the new Rion bridge joins the Peloponnisos in the south to mainland Greece in the north. Boats (and ships) approaching the narrows have to report by radio and then obtain permission and instructions before making the transit.
After leaving the bridge behind us the wind steadily increased until we were making 7+ knots with just the genoa out, in a increasing wind approaching force 7/8 by the time we reached Trizonia. A bit of a challenge to tie up, stern to, but all went well. The entertainment that followed our arrival provided by several other boats kept us fully engaged until after dusk - supper was eaten in the cockpit, we didn't want to miss anything, even if they didn't!!! You get my meaning?
Trizonia is a little holiday island off the north coast of the gulf. Two or three small launches run to and from the mainland all day, bring day-trip tourists out and charging the princely sum of €1 per person per trip. There are about 6 tavernas which all serve traditional tavern fare with cold beer, or a particularly "brave" local vintage wine (OK if taken with food)!
Two dubious characters seen at Trizonia!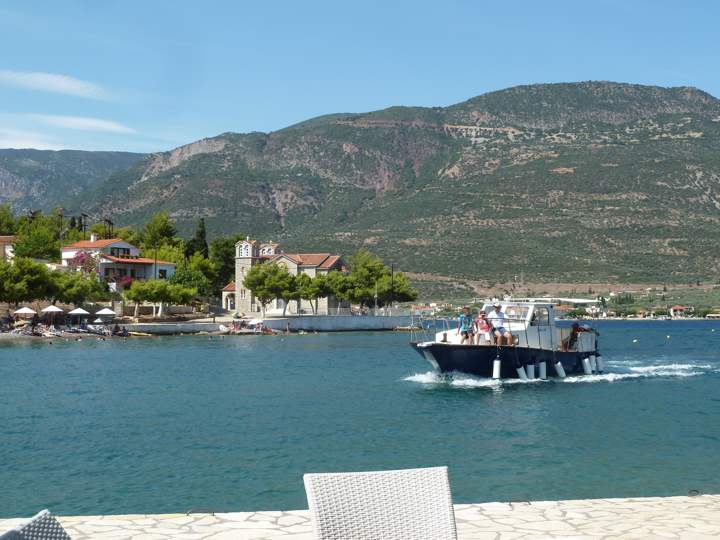 The waterfront at Trizonia
The island features a part completed yacht harbour, in a bay on the East side, providing just the shelter we needed for the night. The little port, which includes a number of sunk and sinking yachts, is enclosed by substantial stone moles. When we arrived the anchorage outside the harbour was full and in the rising winds boats were dragging their anchors and busy shouting at one another, with some rather colourful language(s) used on occasion - French, Dutch, Italian, English - take your pick, but we understood it all, and just as people do in those circumstances. The quays in the harbour were also full, with no room for us. The only choices left for us at 16:00 hrs were the leeward apron and the lee side of the East mole, which was completely vacant. We anchored 30m out from the stone quay and reversed upwind to the wall and hey-presto, a safe and very comfortable berth for the night. By the time darkness fell we had been joined by four other yachts, who having failed to find secure anchorages in the bay resorted to following our example. By daybreak most of the transiting yachts had left, presumably making the most of the quieter early morning weather to get upwind to the Rion Bridge passage before the wind set in again in the late morning.
Now the weather forecasts have us guessing! We have made extensive use of two internet services 'Wind Alert" and "Predict Wind". While the former has been very reliable in the Ionian, their forecasts for the gulf, both yesterday and today, suggested benign calm conditions, with no hint of the strong westerlies we experienced. However, as Predict Wind accurately forecast yesterdays weather and forecast rising winds to 30/35 knots today, we decided to stay put and so took advantage of the ferry to cross to the mainland and raid the small supermarket. As I write this, on our return at 14:00, the wind whistles through the rigging in grand style.
Tomorrow we are moving on toward Galaxidi and who knows what?
---