Santa Eulaliah plus photos

ALKIRA
Charles & Maggie Bevis
Fri 27 Jun 2014 22:02
We upped anchor around 09.30, having enjoyed three pleasant nights in San Miguel, with no firm decision as to where to go next. Charlie was already talking about heading off to Majorca on Friday, but Maggie felt she need to see a little more of Ibiza.

We contemplated heading down the coast toward Ibiza town, just so that we could say we'd been there, done that, but checking the chart whilst en route, and then reading more in the books, we came across a description of Santa Eulalia that sounded interesting and decided that would be a better port of call, and probably a lot nicer than busy Ibiza town itself.
From the sea, it appeared to be very pleasant. No high rise buildings and a busy town centre.
We headed into the bay and dropped anchor in sand with 1 metres below us, and within 200 metres of the town and the beach and just outside the Marina. The latter is stuffed full of mobo's. The book says don't bother trying to get in as it is always full. That's not strictly true as from where we are anchored we can see vacant berths but it all looks very expensive so why would you? The anchorage is free and you lnd on the beach adjacent to the marina and haul the dinghy up on the sand. The beach is rather disconcertingly loaded with half naked ladies and girls. Eyes front Charlie! All very we'll except when you are washing your feet and are joined by a half naked......... enough!
We found the town to be really clean, well laid out, thriving but not overly busy, with an excellent selection of local shops providing everything you could need, and attractive apartments and homes and the inevitable restaurants and bars throughout the town, all very tasteful and inviting.
We spent a very pleasant couple of hours wandering around and decided to treat ourselves to late lunch/early dinner. We chose an Italian restaurant 'San Martino' run by Clara and Francesco situated on the waterfront and virtually opposite where we were anchored. Clara is from Barcelona and met her Italian partner Francesco whilst travelling and working in London. Two months ago they opted to come to Ibiza to set up their restaurant, so it's early days for them yet, but we wish them lots of luck. Clara is very charming and speaks excellent English, after two years working in London. Francesco is the chef, so we didn't meet him. The food was excellent and remarkably good value, especially considering the location of the restaurant. We spent a leisurely two hours eating, drinking and people watching, before returning to the boat.
The evening was very balmy and warm so we watched our video sitting in the cockpit. Before we knew it, it was past midnight and the town had packed up and gone to bed.
The restaurants and shops are gearing up for the start of the high season and as from this weekend, it will get busier everywhere. Santa Eulaliah, like everywhere else, is just busy enough at the moment, plenty of tourists from all over the world, but it isn't crowded. After this weekend, that will change and we're told that everywhere, without exception, will be VERY busy, with crowded beaches, restaurants etc and with that, the noise will probably also return. Until now, it's been really pleasant, so we're bracing ourselves for high season and all that comes with it.
Friday - I went ashore to buy fresh fruit, bread etc and to find a hairdresser and look around the town some more. I left Charlie on board doing his Brookes Bell consultancy work. By 2pm and both back on board, we decided we enjoyed eating later in the afternoon, so I set to work concocting something whilst Charlie continued with his work.
Now at 8pm, the sun is lowering and In another 30 minutes, it'll be gone, although it's still pleasantly hot. After showers, I'll put a light supper together and we're going to enjoy our evening entertainment (just started watching Breaking Bad, didn't know anything about it, but it had been recommended and we enjoyed the first two episodes). It's so nice bobbing about in the harbour, with plenty to watch but nothing intrusive and the weather is glorious.
No wonder the Mediterranean brings so many to it's islands and coastline, it has so much to offer and we're loving eating healthily, coupled with pleasant places to visit, sightseeing, history, good wines, lovely weather, etc, what more could one ask?
The beach from promenade with marina entrance in the distance
Local handicraft sellers street market
Old wine press built into the wine sellers premises
No explanation required!
The town centre
Pretty plaza and town hall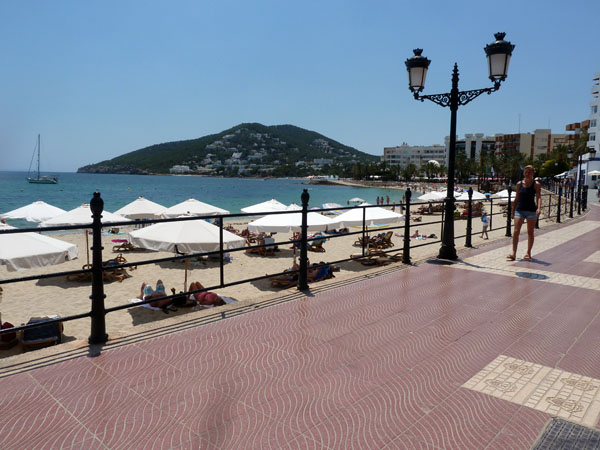 Alkira at anchor just in front of the promenade and beach
Yet another attractive street
---