ALKIRA - 28 July 2017

ALKIRA
Charles & Maggie Bevis
Fri 28 Jul 2017 08:12
Samos N37:42.726 E 027:03.367
A week of bad anchorages – it happens sometimes!
Here on the eastern side of the Aegean the prevailing winds are by and large from the North/NNW, they are persistent and frequently,quite strong. Winds strengthen generally in the mornings and as a rule, after 11:00 it blows at about force 5-6-7 until the early evenings. Well this last week there was a break and we had winds from the south, but equal in strength.
With just over a week before Phil and Karen join us for what will be our last longish passage with ALKIRA, we opted to change the scenery a bit – we couldn't abide the thought of sitting off Pithagoria and waiting for another week. Actually, this was all Charlie's fault - when we arrived here we were, quite simply, too well ahead of schedule. We had planned to cruise slowly up the Turkish coast to Kusudasi, arriving there about now (28 July) and then spend 2 days doing a tour of Ephasus before checking out and arriving here in Samos this coming weekend. However, the cruising/anchorages along this part of the Turkish coast was really not much to our liking, it was expensive, despite the good rate between the Lira/£, and so we decided to leave a week or so early.
Anyway, to inject a little adventure into our lives, we chose to sail west to the next island, Fournoi.
We had a pleasant day at sea using the last of the northerlies and arrived off the southern point of Fournoi in the late afternoon. Sadly we were not impressed, the islands are bleak and somewhat inhospitable. Maggie was severly unimpressed by one islet we passed, where either goats or cattle (we couldn't see which) were stranded on a islet some 250m in diameter and apparently without food or shelter. If it had been possible to lower a boat and rescue the poor creatures and relocate them to one of the slightly more hospitable islands, she would have done so. She's still concerned about them!
The bays Charlie had earmarked for anchoring overnight looked both unremarkable and uninviting as we passed and the afternoon breeze was still strong. There is a bay recommended in our pilot book indicating a stern-to mooring to posts set in the rocks ashore. It all looked quite promising initially, but there was a strong cross-wind, so it was important that the anchor was firmly secure to hold the bow. Charlie swam the aft lines ashore only to find the anchor was not holding. A second attempt was also unsuccessful, for the same reason, even though we dropped the anchor much further out. With frayed tempers and after much splashing and climbing around sharp wet rocks, by Charlie we gave up.
Where's the b…… anchor this time then?
So, after one of our extremely rare fractious hours or so, we moved to a deserted bay about a mile to the south known as 'Quarry Bay' - so named because there was once an ancient marble quarry here and the foreshore is littered with part finished sections of stone columns.
This proved a more promising overnight venue, clear shallow water allowed us to find a good spot of sand for the anchor and this in turn held promise of a quiet night for both of us. Unfortunately, in the event, our anchor landed on a pile of stones right next to the sand.
Where is my anchor? (This picture was taken by a now somewhat exasperated crew member!).
A second attempt (thankfully) proved more successful, after we dropped in the middle of a nice patch of sand.
The high mountains/hills surrounding this bay were bleak and encouraged down drafts from all points of the compass, which sent the boat shearing off in all directions. Peaceful and tranquil? … No, not really!
The next morning we moved on in the hope of finding more pleasing surroundings. We passed close by the main settlement and were once again completely uninspired
and after a management conference we decided to sail back to Samos and around the previously unvisited north coast of the island, (we're talking complete circumnavigation here!)
This is normally the windward shore so is not often accessible. We were quite shocked at the amount of debris and plastic floating in the water off this area of the island. At this stage the promised southerlies arrived, and being in the lee of the land, we ended up motoring for most of the day.
The north coast is unremarkable but considerably more attractive that the barren islands around Fournoi. Pine forest and scrub cover the hillsides but the land falls steeply into the sea and bays in which to anchor are few and far between. Having turned our noses up at a town called Karlovasi (run down with derelict buildings and generally uninviting) on the NW of the island, we carried on eastward with higher hopes of a good outcome when we reached the capital Vathi, on the north-east end of the island.
We arrived in Vathi in the teeth of a brisk southerly wind and approached a berth in the town centre on a quay occupied by 4 derelict yachts. As we approached the quay we ascertained there were lazy lines so we wouldn't need to use the anchor and there were service points for both water and electricity - Maggie's eyes lit up at the prospect of running the Dolly (our precious third crew member) the washing machine. No pristine harbour here, coupled with a strong smell of sewage along the quay wall! Poo indeed! Once we'd secured the boat, we hastily washed/scrubbed our hands in dilute bleach (and then scrub some more), after we'd finished with the ground ropes!
Having distanced ourselves as far as possible from the worst of the noxious smell, by moving northward away from the old ferry berth, we made fast with two substantial (lazy) headlines and lines aft to the quay.
A walk ashore to the shops provided Charlie with the opportunity to find a dentist – walked straight in, no waiting and just 35 Euros cash to fix a chipped filling, then followed by a visit to the supermarket and for supper that evening, one of the best pizza's we've ever had together with a chef's salad, washed down with the inevitable jug of wine.
Surely scooter manufactuers are missing a trick here?
The down side of Vathi came when the wind strengthened and we found our berth uncomfortable with waves reflected by the sea wall behind us. Fortunately the wind and waves dropped overnight so we actually had a good night's sleep.
With shops and an attractive area of town, very close to us to explore, we decided to stay another night. Here we saw/met our first Syrian migrants, fishing/picking up dead fish in the harbour and wandering about. We were gladly able to unload some clothes and food in their direction.
Two German coast patrol boats are stationed here as part of the EU response to the issue and they patrol the adjacent waters at night to intercept rafts trying to cross from Turkey. We didn't establish whether their policy was to turn them back or to rescue them!
We had plans to go ashore again the second night in Vathi, but the weather conspired against us; the wind freshened and our berth became most uncomfortable with seas rebounding from the wall astern of us. Maggie leapt ashore to food shop and we settled for a take away that evening.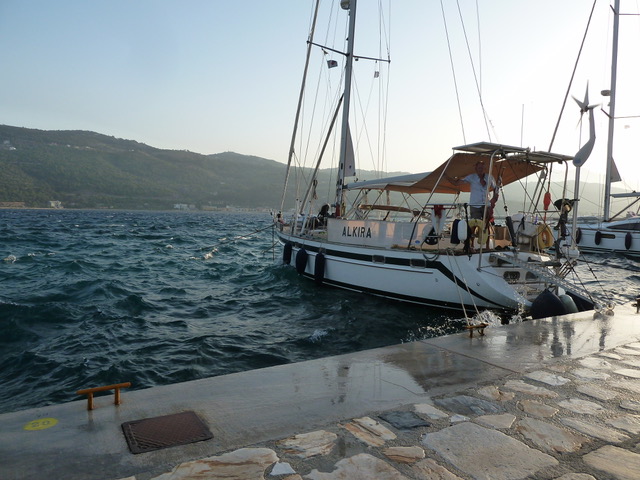 Charlie woke the following morning at 05:30 as the wind freshened yet again and within half an hour – much to Maggie's still sleepy dismay and by 06:00 (and before sunrise) we were off, in haste, before conditions at the berth got any worse!
Just around the corner is a bay on the north coast called Asprochorti which should have provided good shelter from the Southerly wind. Again here the downdrafts were a problem with really fierce squalls from the surrounding hills sending the boat careering around the bay. We were finally settled after our third, (or was it the fourth) attempt but eventually thwarted in the evening when the winds dropped but a swell entered the bay, setting us bobbing about in a most uncomfortable manner. With signs of a disturbed night to come if we stayed longer and after a quick look at the weather, yet again, we were off, back to Poseidonio bay on the SE coast.
We arrived at dusk as the light was fading and anchored at 21:00 in calm water at our second attempt. You'll fully appreciate that by now, and after some 5 years or so, we are pretty expert at downing/upping anchors!
A wise decision and followed by a thrown together supper, a bottle of wine and bliss, a peaceful night's sleep being our reward.
At the weekend we begin our last month with our friend ALKIRA. Sad times!
---