Gulf of Amvrakakis , Mainland Greece – Wedn esday 15 July - 38:56.003N 20:51.882E

ALKIRA
Charles & Maggie Bevis
Wed 15 Jul 2015 16:32
We have another complete change of scenery. We sailed inland from Preveza on 13 July into a gulf that is not frequented by charter or flotilla fleets on their 2 week holiday who dash everywhere in an attempt to visit as many places as possible, but that's to our advantage as they don't know about or seem to find the time to come here, hence no complaints on that front from us.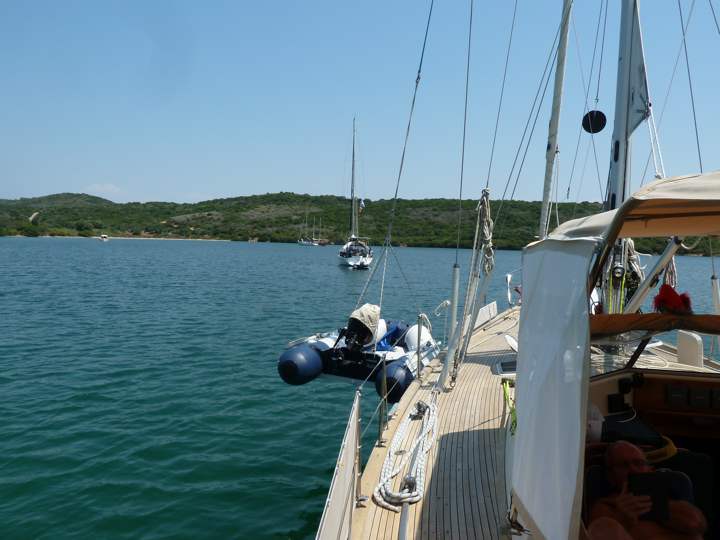 The water is deep, but not crystal clear as in the Ionian outside. Here it's dotted with small islands and numerous fish farms scattered along the coasts. The area is reputed to be alive with dolphins, turtles and other wild life but to date we've not seen anything.
We spent 2 days anchored in a long sheltered bay in calm water that is so warm it is like a bath; swimming is most pleasant. It's been comfortable on board as the summer weather pattern is now established - with light winds in the morning, usually from the East, which die away at noon to be replaced by a stiff 4-5 NW breeze in the afternoon that in turn dies away at about 20:00. So although it is hot, there's a refreshing breeze for most of the day. During the daylight hours we have some flies on board but, thankfully, at night they buzz off and we've been blessed with an absence of mosquitoes – bliss.
We occasionally hear aircraft landing and taking off from Preveza airfield but otherwise there is only the hum of crickets from the vegetation ashore, the occasional bird call and the occasional tinkle of goat bells.
A group of eagles live in the area and this morning we have watched up to four birds quartering the sky just behind us – unfortunately just out of good photo range. Maggie thinks it is a family with young being taught as there is much calling between the birds in flight? They don't seem to be worried about the Euro/Greek crisis.
It seems that the area is reasonably popular with the live-aboard fraternity. Our nearest neighbour is an odd shaped Austrian nudist living on a home built wharram catamaran – that really can't be comfortable! He appears to be on his own unless he has a sex slave secured down below. Our next neighbour was, until 20 minutes ago, an English couple on a NAB35 like my parents owned many years ago. They stay/sail around these parts for 4 months every year and winter the boat ashore in Preveza – I forgot to ask where they come from (silly boy). There are two other longer-term residents but we haven't met them. And then there's Di and John on PYXIS, our neighbours from Ragusa. They've become good friends and we've been meeting up with them ever since to enjoy sailing together as well as plenty of wining and dining time. We were joined a couple of nights ago by two charter yachts, just to contradict our earlier paragraph, but they arrived late and left early the following morning. It's been a quiet and pleasant stop over.
We've agreed with PIXYS that we'll move on today a further 10 miles round the gulf for a change of scenery, just waiting for the wind to arrive…
Although the days are now hot and slow, we attempt to carry out a bit of maintenance each day, some days being more productive than others. Yesterday, we replaced the 'string' on the fenders, all now match and are the same length (much to Maggie's satisfaction), together with the outhaul for the mainsail, this being critical to being able to use the said mainsail and also because the previous one gave way when we were attempting to sail two days ago! Otherwise, when the temperature soars, we read a great deal either from our kindles or from the paperbacks exchanged at every opportunity with other live-aboards.
We just about manage to get the internet, albeit with a weak signal, but have managed to keep relatively well up to date with our e-mails and occasionally get the news.
The Greek issue rumbles on and we watch with interest – so far, it hasn't affected us and we've been able to withdraw sufficient funds to keep us going should the ATM's become empty. How can a population of 11 million people be expected to service and pay off loans of 350 billion euros or whatever it is? That's equates to about 30 million per head in payback - madness! Mind you, so is a society where the super rich avoid their taxes in a country largely dependent upon tourism, and that part of the population that does work retires at 55. We are helping the economy where we can, but in truth now that we have the alternator fixed, we are spending very little. Milk, bread, eggs, veg and fresh fruit. We eat very little, especially in this heat, but we are courageously working our way through our stocks of cheap Italian wine. Meal times vary and Maggie continues to produce chilled soups or salads for lunch and supper is eaten late, once the sun has gone down. The bar-b-que is a real bonus and saves Maggie slaving down below over a hot stove, but the food is still delicious.
The geraniums we have on board are blooming in profusion and are frequently admired, the mint and various sizes of basil plants also provide colour and are a tasty addition to many dishes, not to mention the pleasing aroma and the effectiveness in keeping the mosquito's and other tiny biting flying insects at bay; a citronella candle in the evenings helps too.
Maggie's Garden 1 & 2
The bimini is in constant use and the second much larger bimini that we had made up whilst in Sicily, and can only be used when at anchor or alongside, has proved most successful in giving us much needed shade and extra shelter from the sun and it helps to keep the boat cooler.
All in all, life on board ALKIRA continues to suit us both very well and we are both more than relaxed – great eh?
Charlie Bevis
---