Under way again at last - Samothraki N40:28.485 E025:28.111

ALKIRA
Charles & Maggie Bevis
Fri 5 Aug 2016 16:22
Apologies for the long silence - we have had complaints from near and far and I accept full responsibility.
A distinct change in the mood on board after Maggie's last visit to the doctor and hospital in Kavala earlier this week. Both have confirmed that healing of the breaks is in progress and the wound will heal naturally without surgery . Physio will been needed in September.
As regards the weather someone again switches the temperature control down and then back up again. We have enjoyed more temperate weather with somewhat cooler breezes with some cloud cover. However, when the clouds roll back the unshielded sun returns the and temperatures soar! It was 40 degrees C on Tuesday.
n
We have now reached Samothraki, an island some 55 miles East of Kavala and about the same distance north of Limnos and south of the mainland. A very different climate here today with strong/fresh winds blowing down from the NNE. We are snugly tied up to the harbour breakwater. We are pleased to be away from Kavala at long last and are now planning our retreat from the Aegean this month.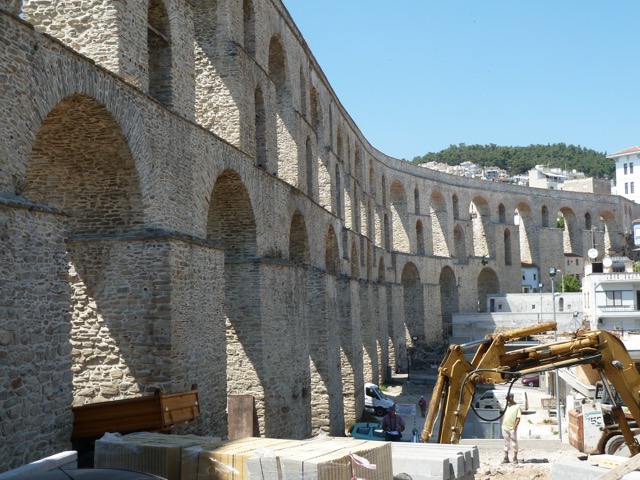 Kavala town is dominated by its historic citadel and castle. This huge aqueduct connecting the citadel and the mainland - spanning the approaches at the east end of town.
Ann went home on Tuesday, 12 July. Although we were both sorry to see her go, the last fortnight must have been boring for her as I had decided not to move the boat and prejudice Maggie's injury further - our cruising was temporarily brought to an end. There is a boatyard near here where we could have lifted and stored the boat and with cheap Thomas Cooke flights to the UK so abandoning the cruise and going home has always been an option we considered, fortunately that did not arise.
The marina and port areas seen from the citadel to the East of the port.
We had a comfortable berth on the town marina. The formalities of staying here are very laid back and since our arrival we rarely saw anyone from the port down on the pontoons. We sought out the harbour office and paid for three weeks (at an extortionate rate of 3 Euros/day) and are making the most of it! For comparison, some marina charges in the Ionian on the Greek West coast are typically 20x that figure and in Italy and Spain they were in the region of 80 to 100 Euros/night for the similar facilities.
I was approached today by Frenchman from the boat in front of us. He told me he had not seen anyone in authority and had not paid!
Charges in this part of Greece are unrealistically low. There were 4 ladies working in the port office when we visited plus one man, who I have not seen since we arrived, who was nominally in charge. Surely this aspect of the port should at least be self funding? The pontoons to which we are tied-up are new and would have cost many hundred thousand Euros to purchase, equip and install!
Two years ago the government introduced a cruising tax which would have cost us about 100 Euros a month. The tax was passed into law but never implemented and we have paid nothing. There are now rumours of a Greek yacht tax with proposed charges at a similar level. Although we are not that well off, I for one would happily pay for the services we receive here.
Sadly much of the money the EU has put into the port and harbour infrastructure here has been wasted. Where work on many smaller ports has been completed the deep water quay space is full of small dinghies and shallow draught small day fishing boats on permanent moorings and leaving little or no room for larger visiting displacement boats like ourselves. In a lot of ports the refurbishment work has stalled and never been completed.
Kavala is an exception, there are these three new substantial pontoon jetties moored in deep water sheltered by the old port walls and within easy walk of the town centre shops and restaurants. One jetty is entirely dedicated to visitors and there is loads of room to spare. There is a separate small-boat marina in the old fishing port for local boats. We have electricity and water which is great and makes life bearable.
Last July we bought a mains electric fan and we have that on in the cockpit when the breeze fails. We shower on board and take a regular morning coffee in a nearby waterfront bar that has nice clean loos. That does up-the-price of spending a penny but we can also sit and watch the world go by and read the (internet) news as well as enjoying a coffee! The staff are now used to us and greet us in English each morning.
Kavala is a mix of a working town, a holiday venue and a busy fishing/ferry port. The fishing fleet leaves every evening and returns in the early hours. Ferries leaving here service the northern islands of Lemnos and Thasos. The bigger ferries (Lemnos) arrive and depart with some panache, steaming at full speed into the harbor until the very last minute and again accelerate hard the moment the ropes are let go on departure. They leave absolutely no room for error or machinery failure!!! With my knowledge of what can go wrong on these ships I watch with some trepidation! The smaller displacement ro ro ferries come and go at regular intervals throughout the day servicing nearby Thasos together with their high speed (hydrofoil) counterparts. The harbor is busy.
We have seen an increase in the number of yachts this month, the majority are charter boats with just one or two private boats like ourselves. There is a RYA sea school based here and they seem to be doing a brisk business with a fleet of about 6 yachts.
Catering – Fortunately, it is too hot to eat heavy meals so any perceived shortcomings with Charlie's catering has not – so far – been an issue! (That's my story and I'm sticking to it – Maggie may have a different opinion). We have located a source of 'Dizzie' rotisserie and kebab chickens, a burger bar and a deli that sells decent cold meats so 4/5 days a week the catering comprises salads supplemented by cold or a few hot cooked meats. That allows for 2 or 3 meals ashore to complete a typical week's culinary fare. We are down to one meal a day with lots of drinks! Fresh food has such a short shelf life here and fruit generally has to be eaten within 2 or possibly 3 days max.
The summer festival here ran for 4 days last week and we walked up into the old town to watch the opening ceremony. As usual for Greece, long boring (and we suspect) political speeches proceeded events, given by important dignitaries who have no concept of public speaking. Then the participating Balkan nations paraded their flags and their national dance troops entertained. Surprisingly entries included contingents from Chile and Taiwan. Clearly not Balkan countries so how did that work? Actually the Chilean and the Russian entries were the best performers although the Greek effort was received with much applause. However we think appreciation of Greek dancing is very much an acquired taste - and we have yet to aquire it! We find it uninspiring, tedious and rather boring. The Chilean effort was startling and appeared to draw from the Pacific cultures and New Zealand.
Part of the colourful opening ceremony - apologies for the quality of the pictures, they wouldn't stand still!!
Great excitement for the ladies of Kavala as the Chilean boys entered the stage in their national costume!!
This last week we hired a car so have been out and about a bit in the area. We visited Philipe the site of a substantial pre-roman/roman town with evidence of the early Christian influence on Rome. Earthquakes have leveled most of the site but it was a good day out. I think Charlie enjoyed it more than Maggie.
The theatre - still in regular use - the audience is encouraged to bring cushions.
Part of the Basilica raised in honour of St Paul.
The forum. The sounding buildings succumbed to earthquakes in the first century AD.
The city was an important town in pre-Roman/Roman times and was the location of two battles between Mark Anthony and his lot and Brutus and Cassius and their lot, following the assassination of Julius Caesar. Busy lot!
We stayed for Maggie's Birthday and had a really brilliant meal of local flying fish, well one enormous fish actually. Although it was probably the best fish dish I have ever eaten, the fish was large and provided enough beautiful white meat for the three of us, the bill that went with it was a little hard to swallow!
Birthday girl at morning coffee!
We finally left Kavala on Thursday morning 4 August making our way to the island of Samothraki, arriving just before dusk the same evening. Today, Friday, we took a taxi up to the Chora (pronounced hora) which is the ancient retreat for the islanders, away from the reach of pirates and marauding Turks.
While the port is quite unremarkable the chora is spectacular being dominated by the ruins of a castle built in 1400's.
Next stop for us is now Lemnos, scene of the British operations base for the Gallipoli campaign in WW1.
---