Kythnos - 1 September, 2016 N 37:24.907 E024:22.656

ALKIRA
Charles & Maggie Bevis
Fri 2 Sep 2016 08:02
Meltemi weather.




Yes it is here in spades. The winds that blow down from the Dardanelles and south through the Aegean, down and past Crete are known as the 'Meltemi'. They are generally force 6-8 from the NNE and usually blow for 4 to 5 days. The seas can be rough even if it is not cold. Surprisingly all this comes with a clear blue sky and sunshine so it could be worse, as long as the boat is safe and snug. We seem to have had our fair share of these winds in the past three or four weeks:



It blew hard for 2 days while we were in Samothraki with Matt.
It again blew hard while we were at Lemnos Island with Matt. We were alongside in a delightful town and the wind had blown initially delayed but then unfortunately had to cancel their visit because of problems at home.
Yet again it blew hard as we left Skopelos, (probably our favourite little port/island for 2016) on 23 August as the next Meltemi built upon it's way toward us. We sat out the worst of the wind, enjoying some excellent company in Linaria, with our neighbours Ramin & Chris, Gaille and Ian and Boudewijn and Agita. Together we all enjoyed a few days of socialising, eating meals on board and ashore, along with a litre or two of wine and long chats that ran into one or two very late evenings.
Sunday marked the recognised end of the holiday season for Greece, and most of the Mediterranean, but luckily for us liveaboards/sailors/yachties or whatever other term applies, we are able to continue enjoying these lovely islands and all this glorious sunshine. The only downside being the shortening daylight hours.
When the wind finally dropped, the little port saw a large exodus of holidaymakers and all 9 yachts. Our little group moved out to Renes Bay, near the south end of the island, and met up for a final evening of eating, drinking and a good natter.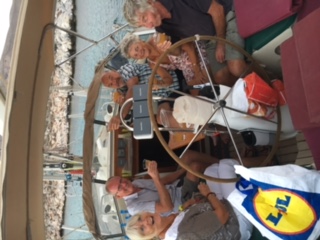 Yes, Lidl can be found in many of the ports we have been to and will go to!
The following morning our little group split up and for the moment, all heading in different directions, however, we may well meet up with Boudewijn and Agita again as we're both due to lift out for the winter at the same boatyard.
We are now at anchor at Kythnos, an island described in the book as a lump of rock! But things are never quite what they seem are they? Whilst there is only a very tiny population on the island, the houses are very scattered, there is a small town, and one wind generator, and a smaller population of goats and sheep.
The latest Meltemi arrived today while we are anchored in a delightful double bay on the West coast of the island. It looks as if we will be here for the next few days, possibly until Monday. A few brave souks ventured out, some no doubt are charterers, who have to be back at base at the weekend. We watched them leave and it looked very uncomfortable.
As a concession to the wind forecast, and for the next few days here, we have two anchors out and two lines ashore to hold the boat close up under the high rocks on the north side of the bay - (hopefully) most of the wind should blow out over our heads and to date, we are comfortable here. The sea is crystal clear and warm and we are surrounded by shoals of tiny fish. There is one taverna which runs off a generator as no mains electricity; after just one visit there for a beer and a look at their menu, upon seeing their prices we won't be venturing there again. With no light pollution and very few boats here now, the sunsets are glorious, the night sky spectacular and very, very peaceful.
A perfect example of an Isthmus!
Alkira, furthest away, fastened up stern to the rocks
My last Blog of any substance was from Kyra Panayia, We spent several nights there enjoying the peace and quiet before moving on to Skiathos. We are very taken with that island; there is no airport so the tourist impact is muted accordingly. We found a brilliant restaurant and an excellent physiotherapist for Maggie and her poorly arm!
Our immediate plans are in some disarray. Maggie needs to be back in UK sooner than we originally planned, to start intensive physiotherapy, so we are now planning to end our season one month earlier. As we have so enjoyed the sailing around the uncrowded islands here in the Aegean, we plan to repeat the experience next year. In those circumstances we decided to change our winter port (which had originally been Crotone in S. Italy). Not so easy to make the change this far into the season as everywhere is full, a situation that is largely due to the exodus of boats from Turkey. It seems that the political situation, terrorist activity, the presence of large numbers of refugees on the coast and the ever increasing bureaucracy in that country, has chased a significant number of boats out of Turkish waters. Anyway, to cut a long story short, and after what seems like hours spent on the internet and phone, we have at last obtained a place yesterday, following a cancellation, at a yard on the mainland south of Athens where ALKIRA is to be lifted ashore on 26 September - we will be on our way home shortly afterward.
So now we have to do some preliminary jobs including emptying the freezer, which has been made easy by being at anchor for several days. There's is no way we can empty the wine and gin lockers, we had stocked up in anticipation of visitors from the Wirral, so both these lockers are bursting, however, we'll have a head start in 2017!
This Meltimi is already weakening and should be past us on Sunday, so we're now planning to head east towards Siros and Mikonos, before crossing back, in a loop, via Naxos, Paros and Sifnos. All the time keeping an eye over our shoulder for a recurrence of the NE meltemi winds. We will then only be two days sailing from the yard. Watch this space.
Maggie is relieved to find she now has limited mobility in her arm, which is good news and a huge relief although she still needs painkillers, thankfully now much reduced in dosage and frequency. She manages without a sling most days and following advice from her visit to the Physiotherapist in Skopelos, she tries to carry out the exercises using her new prop, a large stick! We live in hope that she will regain full mobility, but has been warned that might not happen for some time. Fingers crossed. We've tried to make sure we were always tied up to a quay to enable her to go ashore, but when at anchor, she's had to stay on board, but yesterday was the first time she felt able to climb down into the dinghy and go ashore for a pleasant walk, together with that visit to the taverna for that rather expensive beer!
Today we are doing a few chores on board, the generator has been fired up so that Dolly can do a wash load, Charlie is dismantling and cleaning the bar-b-que, and Maggie is thinking about doing something else, but hasn't decided what yet… oh, and yes, we're going to go ashore for another walk later on - what a life.
---