Petriti, Corfu - 39:27.117N 020:00.277E

ALKIRA
Charles & Maggie Bevis
Fri 12 Jun 2015 17:39
So, we left Corfu Town yesterday, 11 June, heading south. The plan had been to cross to the mainland and anchor off Sivota island but the wind was very light and we made slow progress. After lunch and while sailing at about 2 knots we launched the dinghy to take the photographs as shown in our previous post. Charlie went off in the dinghy with the camera, leaving Maggie alone on board. As the photo session concluded the wind picked up and Charlie had to motor hard to catch up. No sooner had we recovered the dinghy on deck than ALKIRA was making 7+ knots! Just as well we finished the photo session when we did.
By 4 o'clock it was clear we would not get to Sivota at a decent hour so we altered course and sailed up to Pitriti, a pretty little fishing village in SE Corfu. There is room for about a dozen yachts in the port but it was already full of German boats. No problem for us as there is a wide sheltered bay just outside the port with good shelter from the North through the West round to the South and offering a clear sandy bottom. We sailed in until there was just about a metre beneath us and anchored in clear waters. With no sign of clouds bubbling up over the mainland we were fully confident of a quiet night, with no repeat of the thunderstorms that have been a feature of the previous 4 or 5 evenings.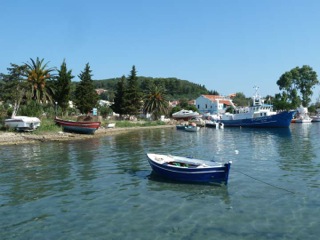 We dined on board in style while watching the latest (for us) episode of "Peaky Blinders" (thanks Ann for your recommendation). We can now endorse her recommendation - an excellent BBC production!
A quiet night at the anchorage was spoilt by tiny biting insects like "no-see-ems". Vicious little buggers too. As we are anchored here for a second night due precautions have/will be taken. It is surprising though that they found us as we are some 150m out from the shore.
A leisurely morning with the latest attempt to fix a leak above Charlie's bunk. He is confident we have the little …. fixed this time - his fourth attempt. A hose test tomorrow will prove the point one way or t'other! A friend has described long term cruising as "yacht maintenance in exotic places" not far off the truth actually – Charlie just wishes the job list would show some appreciation of his efforts by becoming smaller.
Ashore today for an excellent lunch in one of the 6 or so waterside Tavernas with fresh calamari (not Maggie's favourite) and fried Aubergines stuffed with feta cheese, with the compulsory Greek salad. This washed down with two local beers gave rise to a reasonable bill of €28.
The afternoon was spent recovering, followed by a swim (for Charlie – Maggie has yet to be tempted into the water).
The water at the shore is alive with "creatures". We were intrigued by a baby squid who was courting a much bigger (but shy) male hidden in a crevice beneath the little jetty where we left the boat.
There's a large contingent of seagulls here - they follow the fishing boats out in the evening and return noisily at dawn! Ashore there are the ever present swallows, swifts and house martins. When you see what is on offer here you wonder why they should bother with the long flight across europe to possibly reach the UK.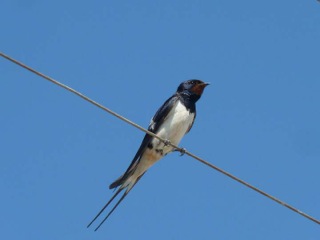 The jury is still out as to whether we move on to Paxos tomorrow or stay here for another day. We are in no hurry to travel too far as our main house-alternator has been diagnosed as "dodgy" and we have a new one on order from Germany, so we have to return to NAOK (Corfu Town) at some time within the next 10 days or so, once we have heard that it has been delivered. Although this, and the new outboard we bought last week, means an expensive maintenance month, it shouldn't damage the overall budget too badly.
It's wonderful being back in the Ionian again. It was always a favourite place for us in years gone by, when we used to come here on flotilla holidays, even though we had to pack a whole lot in within the two-three weeks we had to spare back then. Having the luxury of time now means we can revisit some of those great little places and anchorages and stay for as long as we like. What's there to complain about? Well actually - nothing! Aren't we lucky?
Charlie & Maggie - presently on cloud 9!
alkira {CHANGE TO AT} mailasail {DOT} com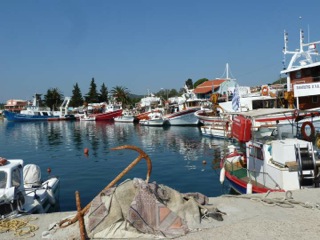 ---