North Cove Yedi Adalari (Seven Islands) N36:52.909 E028:03.350

ALKIRA
Charles & Maggie Bevis
Wed 5 Jul 2017 06:56
Hello again from Turkey.
After some adventures with Hilary and David and several nights ashore in their lovely villa, we re-embarked on Wednesday 28 June.
D & H's pad in Turkey!
Complete with pool (ours is bigger and has boats in it!)
We sailed back south from Turk Buku on Wednesday, around the Bodrum peninsular, with David and Hilary as additional crew. Actually on the Wednesday we ended up motoring all the way to Gumusluk where we spent a quiet Wednesday night in a tight and crowded anchorage.
Gumsluck is an enclosed bay with a narrow entrance providing all round shelter with depths of between 3 and 7 metres and a nice sandy/mud bottom and so good holding for our anchor. For those of you who are boat owners and know Newtown creek on the Isle of Wight you will know what a small crowded anchorage can be like. Fortunately there is no tide or current in Gumusulk so the boats all lay peacefully next to each other with no nocturnal activity required to sort out tangled anchors!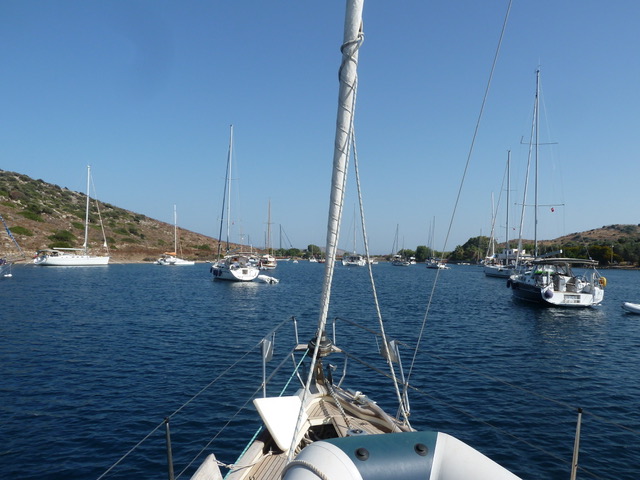 The scene at Gumsluck when we arrived in mid afternoon - and the boats kept coming right up to and after dusk.
On the Thursday we sailed down to Bodrum in bright sunny weather. At Bodrum we dropped David and Hilary off at the fuel pontoon, pumped out our black water tanks and filled the port fuel tank.
The mystery of the "blue card" system was revealed. Our tanks (we have two) were dutifully sucked dry by a slurping machine on the quay by the fuel berth and a meter recorded the quantities removed (in our case 150 litres). I then had to pay 17.70 Euros for the privilege - somehow I had gained the impression that having paid my 40 Euros for the card the service thereafter was free - silly me! Anyway, we will undergo the same performance once more before we leave Turkey at the end of July and hope fully that will satisfy the poo police that we have not polluted their water!
We spent Thursday night at anchor outside Bodrum in a sheltered spot in a bay known as the Aquarium (lots of small fish). Although we were some 2 miles from the nearest habitation we were subjected to a night of boom boom boom from some wretched night club in Gumbet.
We left again on Friday, keen to distance ourselves from the booming noise and headed for the peace of English Harbour. However, we didn't quite make it there and ended up at a spot just west of there known as 7-Islands. This comprises a chain of small uninhabited islands close to the coast and enclosing a lagoon, of sorts. We ended up in the north cove off the lagoon. Charlie preference was another inlet known as East cove but it was hemmed in by thick vegetation and we both felt it would be airless and too hot.
The ice-cream man
A view from our mooring looking Eastward to the Restaurant.
The restaurant under the trees. The beer was cold and the food first-class.
It is VERY rural here, almost jungle with crickets by day in the pine and scrub lining the shore and a nightlife including owls which we heard hooting to each other at night. The only civilisation here is a small beach bar/camp at the head of the creek with a fresh water spring. There is a dirt track road leading ? well somewhere. The camp has a generator that is run in the evening so there is wifi and cold beer. We eat there on Sunday evening and had a delicious Sea Bass - a real treat but pricey!
Yup - cold beer and very necessary and medicinal when the temperatures reached 40 degrees!
A view from out table out to the five yachts comprising customers for the night.
We watched the weather, courtesy of the bar's internet and saw there was a chance we could move back westward again on Tuesday 4 July. However forecasts received on Monday evening also gave conflicting advice. We decided the only thing to do was poke our nose out on Tuesday morning and see what's what.
Tuesday morning at 07:20 we slipped our moorings and up-anchor and headed out. We quickly appreciated that the weather was not going to be kind and at 08;15 made an executive decision to return to the shelter of the lagoon. We anchored 150m off the beach at the west end of the bay and spent a settled day there as the wind increased to 6/7 and then 8 (gusting to 30+ knots). We were snuggly anchored with good holding until a turkish mobo crowded us on one side and a gullet on the other. They got a surprise when we left at 05:30 on Wednesday morning - we woke them all up!
We have an appointment on Saturday morning with an english couple who are interested in ALKIRA. So we have booked into the marina for one night on Friday. Eye wateringly expensive!
---