Nea Klima, Nisos Skopelos, Greece N 39:08.323 E023:38.607

ALKIRA
Charles & Maggie Bevis
Tue 7 Jun 2016 14:52
Tuesday 7 June 2016.
Today finds us berthed in the village port of Nea Klima on the west coast of Nisos Skopelos, sheltering from a strong NE wind blowing across the Aegean (The Meltemi). It rained heavily this morning and we had to take cover below and close the hatches! We haven't had rain since we left Aegina Island nearly a month ago. Some more rain is forecast for early tomorrow and then it brightens up and settles back to sunshine. Temperatures are now comfortably into the upper 20's.
We took advantage of this morning's rain to wash the decks off and the sojourn down below whilst sheltering from the elements meant we were able to do some polishing and cleaning the accommodation. Lunch was the remains of last night's pizza and the remainder will go into the local resident stray dog.
We spent part of the last weekend in Skiathos, the neighbouring island to the west of here. The latter is the most commercial of the islands in this area as it benefits from having an airport with international flights (to London etc) and there is a ferry hub serving the adjacent and other off-lying islands further afield. The town is awash with tourists and struggles to retain it's charm in spite of this. The pavements are thick with dangerous looking young ladies wearing very skimpy tops and swim wear as they parade up and down, together with the now run of the mill tattoo and bare beer belly brigade!
The old stone paved narrow streets of Skiathos town meander past numerous pubs, cafes, souvenir shops and the occasional super market/convenience store. It is pristine clean, but….
Spruced up for a run ashore
The port where we were is quite small and not only services the stream of ferries using the port but also the 100's of trip boats and charter yachts. Space for us visitors is quite limited and confined to a stretch on the noisy front street. The anchorage off the town is also restricted as the airport runway comes right to the water's edge, and unsurprisingly, yachts are banned from the flight path!
We stayed alongside until Sunday evening before deciding that we would be more comfortable at anchor out in the bay, away from the bustle and the noise of the waterfront bars. There we had grandstand seats watching aircraft make their final approach to land on the runway only a quarter of a mile away. The move proved to be a good decision as when Charlie got up to check on things at 03:00 there was an incessant boom, boom, boom of a nightclub echoing across the water (shades of the Spanish coast all over again) and definitely not for us.
We spent last week here on Skopelos, initially in Skopelos town and then in Panormos bay, on the west coast just south of here.
Anchorage off the west coast of Skopelos
Panormos bay
Caught napping
The changing weather due this Tuesday morning prompted us to move from Skianthos and return to the west coast of Skopelos where we had spent most of the previous week and we are more than happy to be back here just pottering and waiting for fair winds to take us further north.
Maggie and Ann who both deny being cat fans, seem to have taken it upon themselves to feed the occasional stray wherever we go and there's one particular little fellow here that has attached himself to Ann, despite her protestations that "she's not a cat fan!" Not only did he follow us all the way back down from the hill yesterday evening and got himself a free dinner for his efforts, but knowing a good thing when he saw us this afternoon, tagged along with us when we returned to the boat and after feeding him again he made himself comfortable on Ann's knees, (who was trying to read), making sure he got her full attention. In the meantime, Maggie was chef to the cat – todays menu comprised of a mixture of a selection of dry biscuits stirred into a carton of cat fish flavoured paté … yum!
Ann gets to know a stray? (wise) cat!
There are just a few boats here in this little port but it looks as though they are preparing for quite a few more as the summer progresses. A bulldozer has been busy since Monday clearing and cleaning up the beach and a heavy duty truck has been removing the debris. The restaurants that are here are spruced up and obviously delighted to be working and earning a living again as visitor numbers slowly begin to increase. No doubt that they will be busy here in July and August but it's oh so nice to be here when life is quiet and the pace is slow.
alongside in Nea Klima earlier today - before the rain
The beach yesterday
Part of the village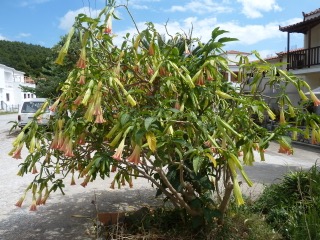 Unusual fauna
Fresh Lemons - a gift from a local villager. From tree to G & T in less than 20 minutes!
With the boat thoroughly washed down by todays very heavy downpour and the interior all spruced up, the laundry washed, dried and packed away, we are now all ready for the next stage of our journey toward Thesaloniki and what we hope will be a beautiful region to visit if reports from other yachties are anything to go by.
Incidentally, visiting Istanbul or indeed any part of Turkey, has now been ruled out, so if you've been concerned for us, you can stop worrying now as we won't be going. Fortunately, there seems to be plenty for us to see and good sailing to be had here, so we're not disappointed at all.
---