On passage to Skioni. Over night of Kitrous - N 40:22.663 E022:38.041

ALKIRA
Charles & Maggie Bevis
Wed 15 Jun 2016 08:18
Thessaloniki grew on us the longer we stayed and after we got over our mediocre surroundings of the marina in which we found ourselves.



The suburb of Kalamaria adjacent to the marina, proved more interesting than we had expected and provided an excellent market on Saturday and a wealth of small shops and s/markets.
We only made the one trip into the Thessaloniki city - it didn't excite any of us! Read Victoria Hislop's novel "The Thread" for an evocative account of the city and it's history - it is a good read.
Views of Thessaloniki
Sunday was laundry day as we had both shore power and unlimited water and Charlie spent the day playing with his fuel tanks, vacuuming diesel bug residue and cleaning fuel lines and filters.
On day three, (Monday) we took a taxi to a nearby Lidl supermarket to stock up on wine and groceries and returned laden down with shopping bags! A very kind passer-by loaded our bags into his car and drove them back to the boat for us. The main road, on the cliff-top inshore of the marina, was lined with empty restaurants, cafes and bars. There was not much business for them and even less from us after being stung Euro 10.5 for threes latte coffees! (We were paying 3.3 E for the same pleasure in Messolonghi).
Diesel was a good price and we took 200 litres from the local garage who delivered it 20 minutes later in a shiny road tanker to the quayside at the pump cost of 1.041/litre. Considerably cheaper than fuel available in Skiathino. To complete a happy day, the sums worked out by the young lady who checked us out of the marina on Tuesday were somewhat more agreeable that those calculated by the more mature matron who had checked us in the previous Friday, and we ended up paying just 28 Euro/night for the four days we spent there. Some pleasure after the gloomy £/Euro exchange rate available today. The currency markets are taking a dim view of our prospect if Brexit goes ahead!
By Tuesday lunch time we were ready to move on. Ann and Maggie were ashore in the morning to find a suitable hairdresser and after the chandler had failed to deliver the promised deck sealer Charlie had ordered - we left Thessaloniki in the early afternoon on Tuesday 14.
We wanted to find somewhere quiet to anchor for the night and crossed the bay to the low lying west shore, south of the city. There we found ourselves in fish-farm territory! In our first attempt, at a location picked by Charlie, we ran out of water (to float in) long before we had adequate shelter so had to retrace our steps (do boats have steps - Charlie gets confused these days) through the buoy fields to a little fishing port further south at Kitrous (chosen by Maggie). There we found a beautiful spot reminiscent of the anchorage off Hurst beach near Keyhaven/Lymington.
The scenery here is so different to the Greece we are more used to. Green fields and hedgerows, trees mountains in the background.
We dropped anchor in 3.5 metres between the southern breakwater of the harbour entrance and a low shingle sand beach and enjoyed a good night's sleep. We had to have mozzie screens across but all was well.
Our overnight anchorage. N 40:22.663 E022:38.041
The flowers are doing really well!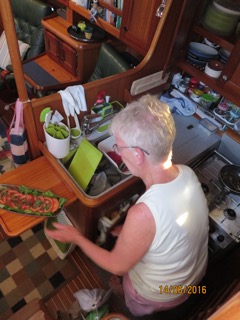 Maggie prepares dinner - Chicken and chips with salads - work in progress!
We then had an early start from the anchorage to take advantage of the morning Northerly wind.
This breeze wafted us out of the anchorage and into the bay before it died altogether. at 09:00. With our eta at Skioni showing at 01:00 tomorrow, we felt obliged to start the engine and move on. A gentle 5 knots now gives an eta of 16:15 today! Much more acceptable. I have just had a complaint from the sun-deck - they are in the shade and would I please furl the foresail!
We are the only boat here, nothing on the AIS, nothing at all! It is not too hot - down in the cabin it is 27.2oC (for the benefit of Lottie who feared we might be frying in 40 degree temperatures. Next month may be different.
---