ALKIRA 11 July update. N 37:27 464 E 026:58.003

ALKIRA
Charles & Maggie Bevis
Tue 11 Jul 2017 09:33
Hello from Grurkey!
Adventures aplenty to report,
We had one day in Bodrum last Friday (7/7) while we waited for an inspection by prospective purchasers This gave us the opportunity restock our stores, visit the HSBC ATM and to go out for the evening and enjoy the highlights!
Friday market
The entrance to the Marina. One night = £93.00 with water, electricity and wifi all extra.
One night was enough!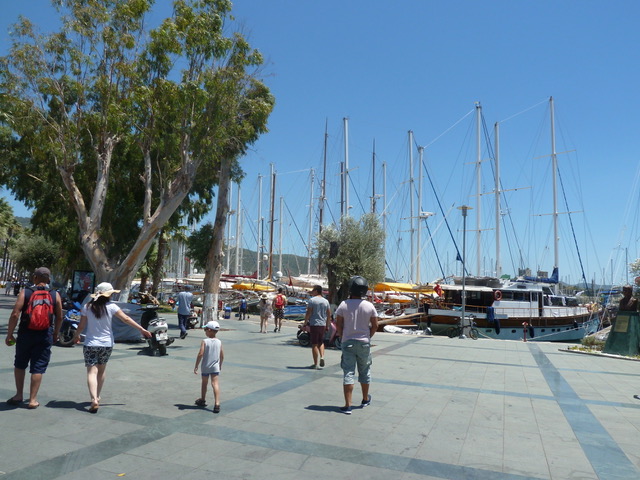 Bodrum Sea front and Gulet moorings
The place was/is buzzing and there is no shortage of wealth in the town. It did no go un-noticed that on most street corners in the tourist part of town around the Marina there was a heavy security presence. Inevitably we were treated to the boom boom boom of - I hesitate to call it - music.
Our guests arrived on Saturday 8/7 and we sailed out to the islands off the peninsula with them and then back to Bodrum Town. We had plans after they left to stay at anchor and perhaps enjoy a Pizza ashore that evening. Then, perhaps fortunately, one of the night clubs tested their sound systems for a few minutes - and we were gone! We spent the night about 7 miles away in the seclusion of a quiet bay with the shore lined by sculptures.
Lunch stop in the islands
Sunday saw us motor sailing around to Yalkervak. The choicest anchorages there were stuffed full of very expensive mobo's so we ended up in the corner next to the shipyard where we spent a pleasant day people watching. Maggie ran the washing machine and we very carefully collected the waste water and put it down the loo and from there into our waste tanks. Detergent bubbles on the sea surface are strictly forbidden!
Sadly, although there was no nightclub nearby and we were largely spared the heavy base boom-boom of the clubs across the bay, we were treated to tuneless wails of the morning call to prayer - so it was an early start to the morning after all!
We set out from Yalkervak on Monday 10/7 morning in a complete flat calm and with the intention of our next stop being a place called 'Paradise Bay' some 12 miles to the north. As we approached the area we found ourselves threading through an enormous fish farm complex. Once we were clear of that we approached the inlet in which the said ' paradise' bay was located only to find the area was being used as a base for the fish farm boats and their processing equipment. Paradise it may have been at one time but it ain't now. The whole area is marked 'restricted' on our Navionics charts but with no explanation as to why.
Sadly we turned away from the alleged 'paradise' and reversed our course toward the next bay to the west, Akbliek Limani. Here we found the attractive pine tree slopes had given way to ultra-chic/expensive waterside properties with private security, bays secured by buoys etc. As we made our way further round into the bay the waterside was lined with sprawling estates of holiday homes under construction or recently completed estates known here as holiday villages. We again abandoned our plans to stay in that area and turned westward crossing to Kuruerik. Here the skyline was dominated by a huge hotel complex. No place for us!
We turned Westward again. The only consolation was that now a breeze had set in and we had a grand sail up toward Didim Marina. After our experiences at Bodrum and the pocket-emptying sensation we had experienced there we had no compunction about sailing past the place. This 5* marina was clearly not in our budget that is for sure! The hinterland is stacked with posh hotels and beach side villas - all very nice in their own way but again not for us.
Onward to the NW but then the wind let us down, veering and coming right on-the-nose. Where to go? We had seen nothing that either excited us or offered us a peaceful night at anchor. The nearest shelter was a Greek island called Agothonisi some 12 miles to windward. We took down our Turkish flag and put up our Greek flag and two hours later arrived here. When we arrived the bay was already occupied by two yachts leaving little room for a third. It was while contemplating this conundrum that we noticed one of the boats was our friends from last season and a memorable stay in Skyros - Ian and Gaille on board 'Princess Orinsi'. With their assistance we secured to two substantial bollards mounted in the rocks and with our anchor out to seaward here we are, snug as a bug. What luxury to have someone to run the lines out for us.
This place is charming, we are anchored in the middle of the hamlet, the mini market is just a stones-throw from the transom.
Although we shouldn't be here, as we have yet to check-out of Turkey and back into the EU there are no OTT expensive houses, cars and yachts, no nightclubs or discos, no wailing Mullahs and no poo police watching our every move for detergent bubbles or worse.
Hurrah, we are back in Greece (for a short while anyway until the wind drops).
Well we didn't expect to be here so whereto next?
Charlie Bevis
Please note:
My email address is changing n 2017 to
---