31 May, 2016 - Nisos Persistera (N Sporades) N39:12.034 E023:58.662

ALKIRA
Charles & Maggie Bevis
Tue 31 May 2016 06:03
This morning we awake to yet another fine day after a quiet night at anchor in Vasiliko Bay on the north coast of this island. The internet had forecast some changeable winds overnight but, if these did materialise, they did not affect us here and we enjoyed an undisturbed night's sleep.




The bay here is deep with three or four houses on the shoreline, no sign of any roads and transport is by water only Scrub, olive trees and pine trees border the rocky shore and goats roam the hills and waterside around us. Otherwise there is little in the way of wildlife. There is just one French yacht here with us to share the whole bay.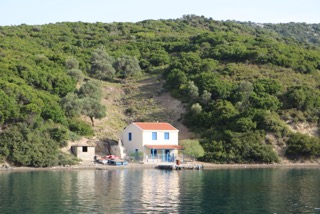 Charlie was swimming yesterday and declares the water temperature becomes more acceptable day by day! The ladies were not convinced and have yet to sample the aquatic delights!
We spent Sunday evening in company of our Danish friends Bjarne and Maryanne in an isolated bay in the north of Nisos Kyra Panagia after our sea passage North from Skyros. Kyra Panagia is an uninhabited island in a nature reserve located toward the eastern end of the N Sporades chain. The bay we chose for our stay is almost land-locked being accessed by a narrow canal channel leading to the NW. Scenically it was disappointing after our experiences in Skira last week with no wild-life in sight other than a few goats - but it was peaceful and we had a merry time until well after dark enjoying the hospitality of the Danes.
Bjarne and Maryanne have a Najad boat very similar to ALKIRA in size but much more modern. We left together on Monday morning for a photo shoot. Charlie was pleased we were able to keep up with Bjarne as we both sailed to seaward from the entrance to the bay; we are a much heavier boat and have a much less svelte (sexy) profile below the water!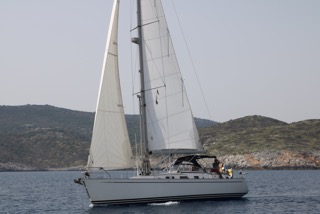 Bjarne and Maryanne are still heading for Istanbul vi N Greece so we are probably unlikely to see them again this year. For our part and following discussion yesterday we have now firmly set our plans to visit Turkey to one side - (apologies to David and Hilary).
Ok so today we plan to go to Skopelos which is some 12 miles away. The island is well known for the film Mamma Mia. The water maker is in operation, as we are not expecting to be able to take water from the shore for the next week or so. At 08:00 the peace on board was disturbed by Charlie as the engine was stated to charge our batteries. The demands of the freezer in providing ice cubes and and ice cream etc do come with a penalty.
---