Naked lady day etc

ALKIRA
Charles & Maggie Bevis
Fri 19 Jun 2015 11:27
Gaios 13/14 June





It was hot, the harbour here comprises a creek/channel between the mainland (island of Paxos) and the off lying islet of St Michael.

the wind was not getting in and we fried.




Ashore the town was much as we remembered except that the number of grockle shops appear to have multiplied and the restaurants were much smarter and pricier. The bakery was sitll there and their bread was easily the best we have had since we left France.



The lca ice cream was good too!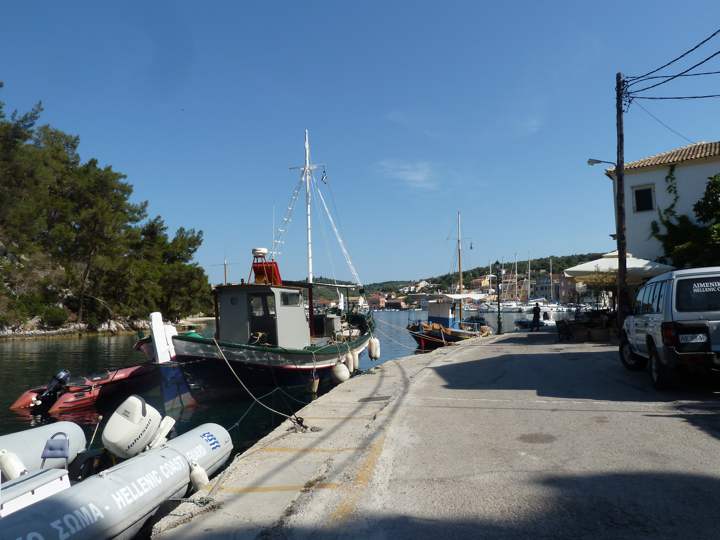 There are all sorts of boats out here!
Lakka 14/17 June
Lakka was full, or so it seemed when we arrived. However, as our first evening there wore on more and more boats piled in to the anchorage and, foreseeing a night of bumps and scrapes, we elected to move and ran a line ashore, placing us in a spot where we hoped the newly arriving yachts could not reach us. We then spent three pleasant evenings in that spot pulled out of the throng and sheltered from the brief burst of NW wind that arrived on Tuesday evening causing consternation to others in in the anchorage. Several boats followed our example and it was interesting to see how the problem of mooring the boat between an anchor forward and an obliging rock aft was tackled -very entertaining.
A german charter yacht pulled in next to us late on Monday evening crewed by seven young ladies. They did a very good job of anchoring and running a line ashore (well there were lots of them to do the work!) In the morning, during breakfast, they then provided further entertainment for Charlie by showering one at a time naked off the stern of their boat. Charlie spilt his scrambled egg down his shirt. Later on the same day a very nice, but naked, French lady, swam over for a chat about ALKIRA. So Tuesday was christened naked lady day!
Lakka is still a very nice place although one of the economies made by the authorities has been to halt rubbish collection - the bins are overflowing and teaming with vermin - pursued by the local cats. Not good.
Petriti 17 June
We had to make our way back to Corfu Town to take delivery of a replacement alternator. A first step was to move back to Corfu Island.
We arrived on a calm afternoon and anchored off the fishing port, as far in as our draught would allow. The wind came up in the evening and it then blew hard from the north leaving little or no shelter in the bay. We had expected a NW wind, and indeed we got it later that night, but the early evening wind raised a swell that was not at all comfortable.
NAOK (Corfu Town) 18 June -
We were both tired after the combined effects of a bouncy night and the attentions of the local mozzie air force. So we left the anchorage and moved back up to Corfu Town where we are expecting delivery of the replacement alternator. Now that has well and truly blown the budget!
---