Through the Messina Straights to Taormina

Buesnel
Mon 6 Jul 2009 21:30
37:51.00N 15:18.04E
We sailed (mainly motored) through the Messina Straights today. It was very busy with some sort of ferry on every quarter most of the time. The wind was bizarre too - 3-5 knots on the nose for most of the time the it switch to directly astern and climbed to 32 knots (!) and then in an instant swung 180 degrees to be back on the nose at only 3 knots.
We arrived at Taormina at 5.15pm - it is lovely here with a town up on the hill and overlooking Etna with really clear and clean waters.
We are staying at the "yachthotel" - a concept set up by a local Italian entrepreneur (
http://www.yachthotel.it/
). You moor on a buoy in the bay so dont worry about anchoring. He collects your rubish, books tours, you have use of a pool at the local hotel and there is a wireless internet service - so far so good.
Jack climbed to the top of the mast to retrieve the Spinnaker halyard thatg Clive lost while trying to launch Wacky
Jack and Harry did some snorkelling and Jack took some underwater pictures.
Looking back at the Messina Straights - Italy on the right Sciliy on the left - this is before the wind got up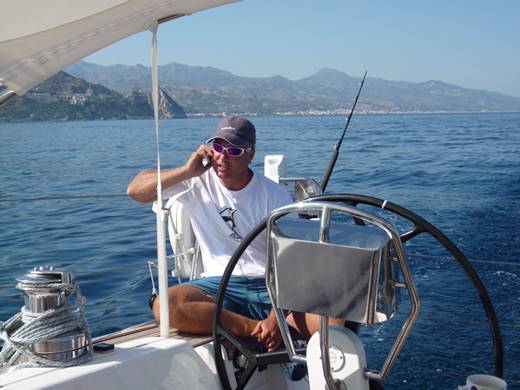 Clive (on the phone to the office??)
Jack at the top of the mast to retrieve the spinnaker halyard
Jack and Harry snorkeling off the boat
Underwater picture taken off the beach (taken by Jack)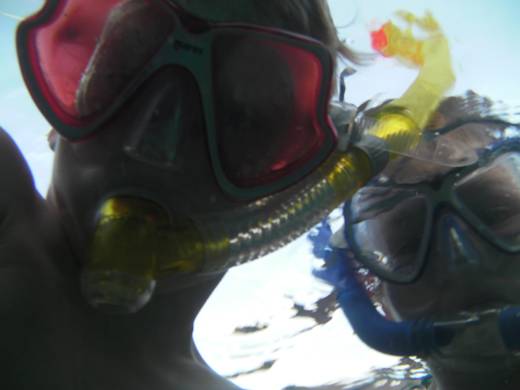 Jack and Harry snorkelling (taken underwater looking up at themselves by Jack)
---