Still in Base Nautico Flavio Gioia (on the Gaeta Peninsula) - lovely place and weather

Buesnel
Wed 10 Jun 2009 13:18
41:12.09N 13:34.90E
After two days at sea we decided to have a couple in port and go to the beach. Also we needed to get the Gelcoat repairs done from where eXhilarance hit the dock in Bonifacio after a change in wind direction.
But first off it was some boat maintenance and back to school. Clive cleaned out the block bilge pump while all three boys did some school work (Jack did level 5 maths, Harry did times tables and William did some maths (helped by Harry)).
Bilge pump cleaning - one up from toilet unblocking!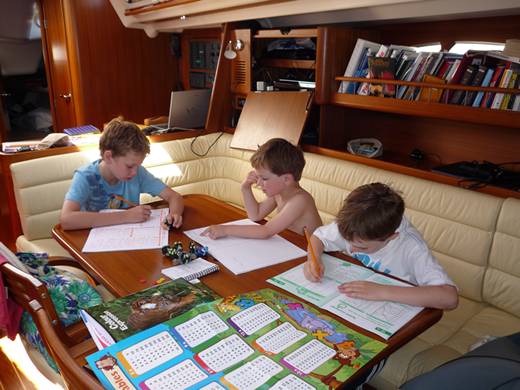 Back to school
Then went to the beach - a 500m walk to a very nice sandy beach - only problem was it was packed. Jack ended up befriending some Italians with a football and after that we introduced them to Rugby.
We all had a play in the waves and generally had a good time. Afterwards Vicks kindly oferred to babysit so Susie and I could have a meal out together - after walking round for 30 mins we eventually ate in the Marina restaurant which was fine but not stunning - we now have a recommendation for tonight.
Boys with their surf boards in the waves
Introducing some Italians to Rugby
Jumping Jack - having fun on the sandy beach
A well needed bit of adult time ... with Vicks kindly babysitting
---