A week in Amalfi

Buesnel
Sun 28 Jun 2009 17:37
40:37.79N 14:36.05E
Jack is "Captain Jack Sparrow" now and likes to helm when he can, new techniques being develolped!
We have spent a week in Amalfi relaxing with no pressure to go anywhere and waiting for our friends, Roy and Sharon to join us for the weekend (it is Sharons birthday). We have really enjoyed it here, mooring has again been very wobbly (exposed to the south and fast ferry wash) but there is a super person who runs the quay "Aniello" who does everything possible to make it comfortable.
The family waving down at eXhilarance from the top of the Amalfi harbour wall
Susan and Clive had a night in a local hotel (Luna) right on the headland (Vicks kindly babysitted), we hired a car and visited Positano and Priano and also drove back to Pompei (1.5 hours) to do a massive shop. Harry got into his crab net and caught 2 crabs and a few small fish in it! (still no luck on the line). Jack and Harry had a ringo ride.
Our balcony overlooking Amalfi town and harbour
The bathroom with the window looking out to sea
Beautiful courtyard - the hotel was a Monestry before
Clive enjoying champagne on the balcony
We hired a 16 foot inflatable with a 40hp engine (it was too rough for Wacky) to go along the coast and visit the local grotto. In the grotto we were being rowed round when all of a sudden the oarsman broke into song (the Cornetto song). It all seem a bit contrived and the boys (including me) could not stop laughing.
Jack and William - Jack drove the boat all the way from Amalfi to Positano
Susie and Vicks relaxing on the sun deck of our hired RIB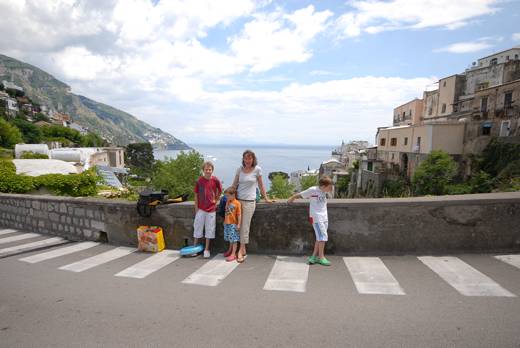 The family at the top of the hill above Positano
Positano
The weather has not been great this week - we have seen some sun but temperatures have been down and it has rained a bit most days. We still managed some swimming in the sea but the tans are fading, oh no !
Harry and Jack in the sea of Positano
The family on the hired RIB
We are preparing to go to the Aeolian islands off Scicli tonight for a week. There is the potential for diving and seeimg a live Volcano (Stromboli) erupt into the sea at night. We have also book a hotel for a night with a big swimmimg pool for a relaxed 2 days....
---