Seeing an active Volcano - Stromboli

Buesnel
Mon 6 Jul 2009 21:00
38:47.43N 15:13.04E
We decided to take an organised trip to see Stromboli - the active volcano in the Aeolian Islands that erupts every 20 minutes. The boat trip took us from Lipari to Panarea for a swim and lunch and then on to Stromboli.
The walk up to the volcano involves walking up nearly 1km vertical and takes about 3 hours. You can only do it as part of an organised trip with guides. The walk up starts about 17.30 (once the main heat of the day is over, although still hot!) You then walk up and when you get to the top look down into two craters that bubble away and puff out steam, molten rocks and smoke and then about every 20 minutes fire off an imnpressive eruption throwing molten magma high into the air with lots of heat and light. You then climb down in the dark with head torches on. The decent is mucjh quicker as you are almost sand skiing down on the very fine volcanic ash - every step down you slide a couple of feet.
Clive, Jack and Vicks climbed - it was too much for Harry and William so Susie stayed at the beach in Stromboli and then saw some of the eruptions from off the island on the boat.
It was a really great day out - we were all a bit tired - both after the walk and also wrriving back at after 1am.
Island of Panarea
Panarea waterfront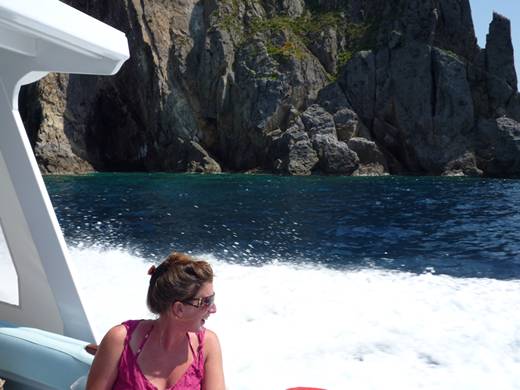 Coastline off Panarea
The family on the tour boat (!)
Approaching Stromboli
Clive and Jack on the path up to the top of Stromboli
Clive and Jack half way up, Stromboli town and waterfront in the distance
Clive and Jack at the top of Stromboli (960m)
Vicks at the top of Stromboli (picture sepcially for Helly!)
The group watching over the Stromboli craters as the sun goes down
Stromboli erupting
The cloud of sulphorous smoke after the eruption
Meanwhile William was on the beach with Mummy getting black feet in the volcanic ash
---