Dads and Lads day out on the water

Buesnel
Sun 31 May 2009 17:58
41:44.1N 12:14.6E
Yesterday we had a Dads and Lads outing. We motored 8 nms down the coast in light winds and anchored 1/2 miles off in 6tm of water. A chance to get the boat toys out for some Ringo rides behind the dingy (Wacky) and also for the boys to have a swim. The Lads had a lot of fun therefore the Dads were able to enjoy the moment too.
We cooked fish on the BBQ for the boys on the way back to the Marina.
The adults then had great BBQ fish, rice, carrots and asparagus with some Pinot Grigio and Chiati, follwed by a pineapple and mango fruit salad - hard life on a boat!
The Dads - Ian, Roy, Nev and Clive - enjoying a sophisticated coffee and the FT - no hangovers in sight!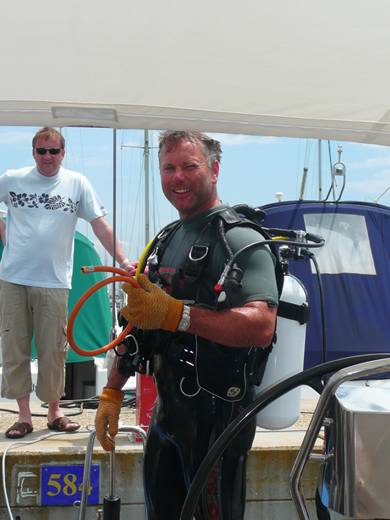 After losing the BBQ gas regulator overboard and not managing to get a substitute - Clive had to bite teh bullet and don the dive gear and dive down in the murky water behind the boat to retrieve - we enjoyed some wonderful BBQ fish later
Ringo roides for the boys were on the agenda (a bit too rough for waterskiing)
Jack at the stern of the boat enjoying his first Italian coast swim
Lads - Nathan
Lads - Marcus
Lads - Jack
Lads - Lawrence
Lads - all 4 of them - lots of fun had by all
The skipper preparing his boat for mooring (moving the dinghy to the front) - photo courtesy of Vicks who has taken a lot of good photos over the last weeks.
---