Anchored in a bay off Ponza island

Buesnel
Thu 11 Jun 2009 19:36
Vicks and Clive went out for an early morning Kayak paddle round the bay.
Geata looked great from the water this morning in the sunlight.
We then packed up and headed for Ponza - advice from local fuel berth person was that we had to go there - crystal clear waters for swimmimg. The forecast was 7-10knots of wind from the South-east, was actually 20 knots from the south-west - right on the nose again!! But we survived it and anchored up in a very nice bay with very clear waters. Jack took rides round the bay and through the arch on Wacky.Harry had his first go and William helped Jack steer(William liked going through the arch).
Geata Town
Geata Town
eXhilarance - loaded up with her toys now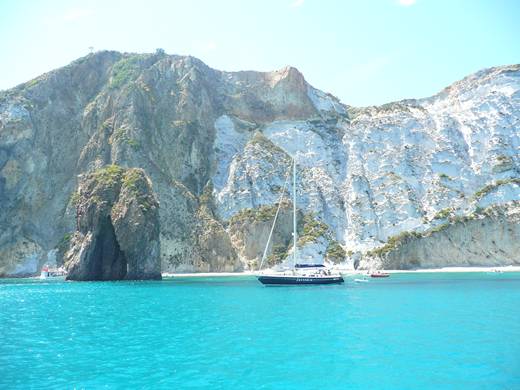 Arriving in a bay on the east coast of Ponza Island (note the arch that you can go through on a dingy - and the boys loved that. Susan thought her father Mike would really appreciate the dramatic geology features here)
Jack driving Harry and Daddy round the bay in Wacky (note the colour of the water)
Jack and Daddy had just been to check the anchor
Harrys first drive of Wacky - under supervision of Jack
eXhilarance at Anchor off Ponza island
---