Some land exploring in the Bay of Naples and Amalfi coast

Buesnel
Thu 18 Jun 2009 08:56
40:43.03N 14:28.32E
We are now in Marina di Stabia in the bay of Naples. Susan has gone home with JAck for 2 days as Jack has to go for an induction to his new school - Churchurs College. The marina is new and not yet finished - in typical Italian style the internet may work "tomorrow" the pool and restaurant complex "next month". It is in a pretty run down area but very close to Naples, Pompei and the amasing Amalfi coast (Positano, Sorento, Amalfi).
So decided to hire a car - a small Itailian one and do some exploring and shopping.
We drove along the coast - some of the most amasing scenery I have ever seen and the roads wind and wind along the cliff face - barely wide enough for 2 cars certainly not for a coach and car. Some interseting driving habits made that fun!.
Positano was lovely (Susan and Vicks need to return for shopping). We had lunch in a restaurant overlooking the bay, We then drove to Amalfi to check out our mooring reservation for next week. We stopped for a swim in a bouyed off part of the harrbour - surprisingly clean and clear. On the way back it was so windy William was car sick (nice!) but we really enjoyed our day out.
Yesterday we went shoppping at a huge hypermarket that sells everything. We got brave and decided to up the ante on boat cooking - we bought a live lobster and Vicks cooked it to perfrection and we washed it down with some very nice local wines. The boys were facinated by the lobster, harry asted it and liked it - expensive tastes!
We went for a swim on a nearby beach "Bikini Beach" which is geared up for posh Italians - cost us 30 euros for a swim (ok free umbrella and 2 sunbeds but a bit pricey)
The rented wheels - is Clive downsizing?
View from out lunch stop looking down over Positano bay
Clive, Harry and William, house above Positano in the background
Our lunch stop in Positano
Daddy swimming with William in the harbouir at Amalfi
The harbour at Amalfi with the town in the background (Hary and Willain in the foreground)
The buildings in the cliff at Amalfi (Sharon - perhaps one of these is your hotel?)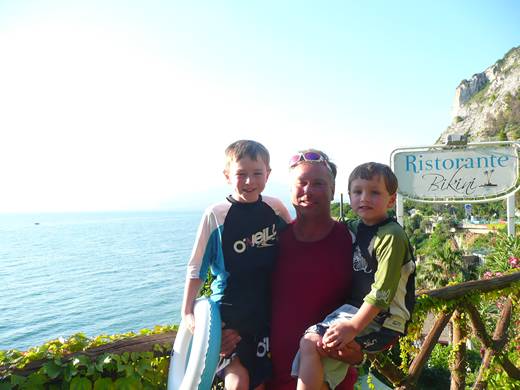 Harry, Clive and William at the top of Bikini beach
"Luca" the live Italian Lobster
Vicks cooking "Luca" - it was really good.
Clive halving "Luca" in front of facinated Hary and William. Harry will probably have mussels as a starter and lobster as main course now when he dines out.
---