Birthday weekend

Buesnel
Sun 28 Jun 2009 10:22
40:37.79N 14:36.05E
Roy and Sharon have come out to visit us in Amalfi (Friday - Sunday). So we planned to do a few things.
First was a birthday meal on the boat - Moule, followed by Lobster followed by a chocolate, almond and rasberry torte as birthday cake. Wahed down with Champagne, "Amalfis" (cocktails of vodka filled watermelon and peach juice, home made and home named), white wine, pudding wine and red wine. A bit of dancing on the back of the boat and that was Friday night.
Roy and Sharon - Sharons birthday in Amalfi
Sharons birthday Torte - all made on board.
Cheers to Amalfi - we named our home made cocktail of Vodka watermelon and peach juice - "Amalfi"
On saturday we went along the coast to Positano (a rich town with great opportunity for shopping). We picked up a mooring buoy, had lunch and then the girls headed ashore for shopping (bought dresses, pictures..... ouch!)
Roy fishing - lots of technique and enthusiasm but alas no fish!
Roy and Sharon swimming off Positano
On Saturday night we went out to a local restaurant - La Caravella - a Michelin 1 star and one of the best in southern Italy. It was awarded the best cellar in Italy in 2005. We had the 8 course tasting menu with local "Campania" wines. It was outstanding - one of the best meals I have had - local fish, black (dyed with squid ink) pasta, lots of olive oil, tomatoes etc with a sparkling wine, 2 whites, 1 red and a puding wine. At 1030 we were asked if we wanted to go outside and see the fireworks (there is a festival in Amalfi this weekend). Fireworks were incredible - 15 minutes and with the cliffs the noise was amasing - Sharon was impressed that we had laid on the fireworks for her birthday.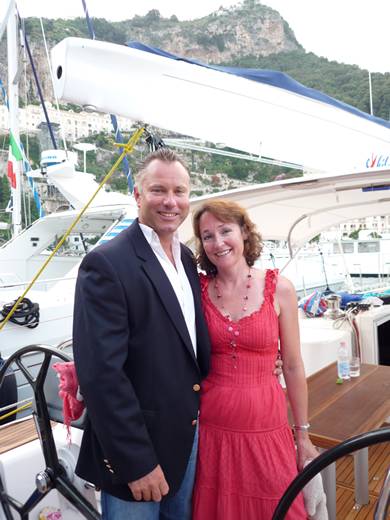 Clive and Susie - the new dress bought in Positano
Roy, Sharon, Clive and Susan at the Caravella - great food and wine and fireworks too!
---