Welcome to the Lucas family

Buesnel
Fri 17 Jul 2009 21:03
39:04.74N 17:08.27E
Back on the boat and with significant "IT" problems we are back on line. Also I am back on the boat and am joined by the Lucas family. We had a day in Tsaormina in Sicily relaxing (they had a long train journey from the UK via Paris and Rome). Ami and Goerge managed a Ringo ride in Taormina bay and we all had a swim in the CapoTaormina pool.
The next day we headed for Crotone on the heel of Italy (120nm). A small non-descript town but we met some very friendly people (or at least Sarah Lucas and Vicks did! and were 2 hours late for lunch!) and we also bought some amasing Seafood (Lobster, Mussels and Salmon). We then headed for Greece. The evening bagan well with us stopping the boat mid passage for a cool off dip and then our long lost friends the Dolphins appeared - 4 separate times in fact) George and Ami loved seeing then and I tried to get doen and stroke them and even set us a Bosuns Chair arrangement over the side to try and be in the water with them and we trucked on at 8 knots. The wind got up in the night and we had some very fun, if s little hairy, sailing under the stars in 22-26 knots at 70 degrees off the port bow.
We have now arrived in Greece at a place called Palaiokastrita on the west coast. The water is amasing - colder than Italy but so clear and clean feeling - we needed cool off dips today on a regular basis. We then wnet out for a Taverna meal in the small harbour. in need of some sleep as none last night.....
BTW Pip Lucas is Pipo Lucasa in Italy and Pipos Lucasos in Greece!
Amphi Theatre in Taormina
The CapoTaormina pool we all swum and relaxed around (Sarah got a little burned!)
Swimming off the back of the boat mid passage to Crotone
Our friends are back (4 times we saw them)
George Lucas was very excited about seeing the Dolphins
I tried to stroke them from the boat
... and then hung over the bow to try and get closer to them
Clive helped cook the seafood delight and Pip hypnotised the lobsters so they would taste better or not feel the boiling sone much (not sure which)
Lobster and Moule for dinner
enjoying dinner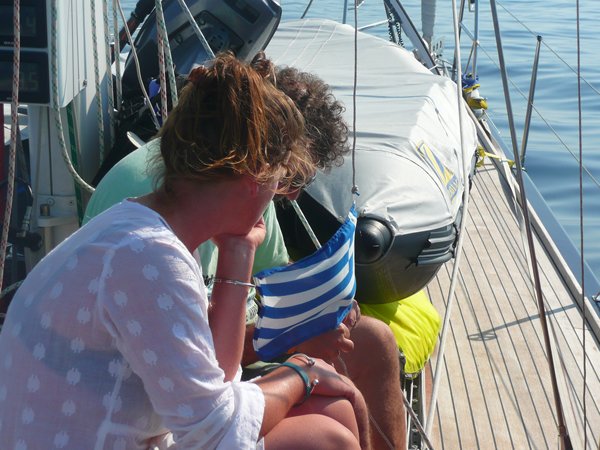 The lowering of the Italian courtesy flag (lots of great memories) to be replaced by the Greek
Arriving in Greece
Cute George Lucas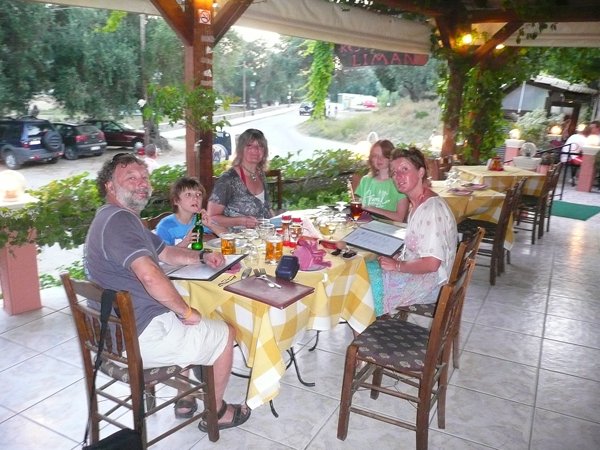 The first Greek meal
---