Still in Base Nautico Flavio Gioia (on the Gaeta Peninsula) - 2nd day enjoying ourselves

Buesnel
Wed 10 Jun 2009 20:54
41:12.09N 13:34.90E
This morning Mummy took Harry and William to the park and Daddy, Jack and Vicks assembled the latest toy (The Kayak). We were so pleased we had to to go out for a paddle round the harbour.
Daddy assemblng the Kayak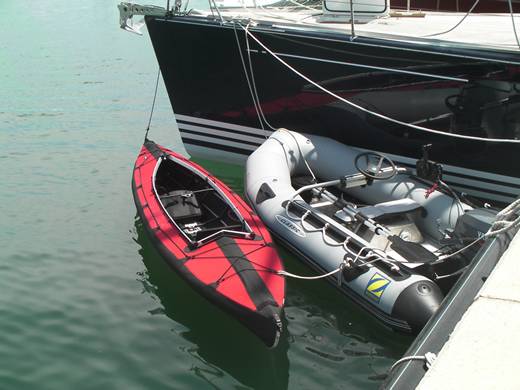 eXhilarance's toys nearly complete - only the SCUBA gear to go !
After our paddle round the bay we had some lunch and a rest in the midday sun (hot) and then went back to the beach, this time with the waterproof camera. We played in the waves and played beach rugby again.
Jack on his bodyboard (underwater shot!)
Harry and Jack on their body boards
William enjoying jumping the waves
Daddy still has a spin pass in him!
... but Harry is close to becoming the master...
Tomorrow we plan ot set off for Ponza - one of the charming islands off the coast of Italy at this lattitude - we will keep you all posted....
---