Next stop - Home!

Adventure_iceland
Thu 4 Sep 2008 07:49
All the crew of Adventure had a sound nights sleep after a good run ashore and a delicious Chinese buffet! Some found it hard to use a knife and fork after so long of eating most of their meals with a spoon. There were lots of smiling faces after the luxury of a nice hot shower was rediscovered, and remembering what it is like to wear jeans and clothes that are not damp!
Reveille was not too early and the crew were bright eyed and bushy tailed after a full English breakfast with all the trimmings! They prepped the boat ready to slip for our final sail to Gosport. With a new weather report in hand, and the prospect of Force 7 and 8's, the crew took it in their stride with the big questions being asked – "Will the sun stay out?" and "Will Mike hold his breakfast down?"
The crew getting ready to slip for the last time
Oceans 3 basking in the sun but not the glory!
On the way out from Poole we heard a Pan Pan call on the ships radio that a yacht had had a mishap and lost its mast, just shortly after we had pasted it. The yachts call was picked up by the coastguard and they came to their assistance immediately. Many people forget how professional the coastguard and RNLI are and the great importance of their job of keeping the sea safe for our exploits! Once out of the harbour the wind soon picked up as promised, with south westerly's at 35 knots. No change there then! We decided to keep everything simple and have a nice gentle run home under the No 2 Yankee fore sail. Ginger watch decided that they might get a little bored on the way home so they decided to buy a kite in Poole to fly on the way home, we shall leave it to your imagination to guess the outcome!
"We wish all Force 7's were as nice as this one!" Everyone on deck just after coming through the Needles into the Solent.
We arrived alongside in Gosport at 1700 hours, Adventure safe and sound in her home berth. Tomorrow the fun and games begin with the turn around of our home with lots of bleach and disinfectant, and lashings of elbow grease.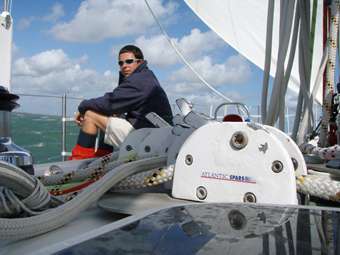 "Another trip draws to an end; I wonder where the next Royal Signals expedition will go to? Cuba - maybe?"
---