REFLECTIONS OF A SKIPPER

Adventure_iceland
Fri 28 Mar 2008 20:28
Being a Challenge 67 skipper is a rare privilege. There are only a dozen or so of us serving in the UK Armed Forces. A handful of staff skippers make up the slightly depleted complement at JSASTC at present but the boss is recruiting and training more. But amongst the few of all these are some superb skippers and very knowledgeable sailors. Counted amongst this number is Sgt Darren Gale MBE - or Windy to his mates.
This superb friend and work mate is an inspiration to me and many like me. Although I am skipper of the first leg to Greenland and Windy is skipper of the second or return leg, Windy is also Mate for Leg one. And he is helping train the crews throughout. Although he has just returned from sailing with some young soldiers from the Falklands to South Georgia, a couple days later he turned out to help me train the Leg 1 crew. And what an instructor he is: he is a whirlwind of activity and every ounce of his waking effort is for the betterment of those aboard. I have learned many things from him in just these few days and his experience comes to the fore whenever there is an issue to be sorted out.
Here he is when the seas grew and the winds rose to 49 kts ... calm and collected as ever!
But you know he is also gracious and supportive to me - a real asset.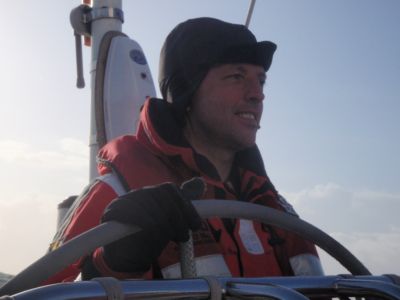 And I am really pleased to be sailing with him! The whole expedition is well served by having him on the team.
Richard Quinlan
---