Halcyon Days

Adventure_iceland
Sat 23 Aug 2008 23:20
"I must go down to the sea again
To the lonely sea & sky
And all I ask is a tall ship
and a star to steer her by."
John Masefield
'Sea fever' is a wonderful poem, and conjures up everything I could say. But the rules of the blog are that I mustn't plagarise too much.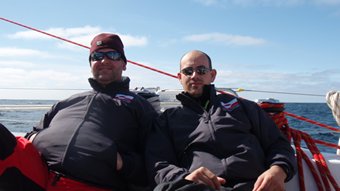 Andy and Mike catch some rays.

As the clock turns, we are settling into the routine of watch-keeping. The early distractions of motion-sickness have become a rather unpleasant memory for those who suffered (including me!)Ginger watch has just finished 48 hours on sailing watch, which is four hours on deck, & four below. So far the weather has been kind, with light winds and waves, both running in the same direction.
Tom, Andy and Stu fighting to find the No 3 Yankee
A few days ago, it was all about degrees of unpleasantness. 60 degrees of Latitude, 1 or 2 degrees of temperature (especially at night) and the boat heeling at 30 degrees. But now we are fairly level heading south, and feeling warmer all the time as we head for a high pressure region of weather. The other big plus is that the boat is dry. Not just in an alcoholic sense, but in a very real sense. Oilies are being worn to block the wind, not keep off the water. So there is no dampness being transferred to other clothes, floors bunks etc.

Most of our training has been quite intense and has certainly paid off. Now we are actually making the voyage, we have more time to do the small things such as bake bread. This small task is excellent for morale, not only is it a learning experience for all on board, it pleases the all the senses. The smell of it baking through out the boat is a delight to wake up to, and there is nothing like warm fresh bread for breakfast. It has also started a little competition not only between the watches but also individuals!
Greg and Kev receive Oz's master class!
Other tasks include launching the bio-degradable rubbish such as food scraps & paper over the side made far more interesting by the use of a very powerful catapult. Not much else going on in this patch of lonely sea; just cruising along enjoying the halcyon moment of fair winds & sunshine. No dramas really and not too emotional (except me trying to type on this laptop) not even sporty at the moment. The weather is similar to that described yesterday and the crew are getting more practice at down wind sailing. We have a full main sail and twin head sails, and cruising a long at and average of 7.5 knots. As ever this has started another competition between the crew of who can helm the fastest speed over ground, Emma currently holds the record at 11.3 knots – Watch this space!
Andy – Yellow "Ginger" Watch
---