Atlantic Gale Venison at White Watch Café

Adventure_iceland
Mon 4 Aug 2008 17:17
Another day down and White Watch are all but ready to go back on duty sailing the yacht after 24 hrs on mother watch doing a sterling job looking after the crew and yacht. During the mother watch we cooked a three course 5 Michelin star evening meal to celebrate Andy Whitmore's (Red Watch Leader) 51st birthday. The meal included melon boat for starters, roasted venison stuffed with apricots and sun dried tomatoes, with courgette surprise and mashed potatoes followed by a home made trifle for desert. We have named the recipe Atlantic Gale Venison (after the top chef Windy Gale!). All agreed this was a fabulous meal worthy of Gordon Ramsey or any other top chef.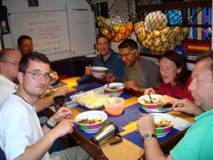 After cleaning the Galley and the rest of the yacht it was an earlier night for White Watch in bed for 10 o'clock catching up on sum much needed sleep - getting more than 3 hrs in one stretch feels like luxury.
An early start getting breakfast and much needed calories into the crew was the main effort for the start of the day and having cleaned the yacht, we are now ready to take over sailing duties for the next 48 hrs.
The other key event of the day was that a member of our watch got an email whoop whoop! The first one we have got! Obviously the email was only intended for Dave however that didn't stop the entire watch getting excited! Dave managed to delay reading his email for a while which only fuelled our excitement! So the rest of us are feeling slightly neglected waiting for that email to arrive and brighten our day. Rachel is convinced that mum and dad are enjoying their holiday in France far too much to care, and frankly her boyfriend seems to have forgotten! Ram's not sure if any emails will be coming his way at all this trip! And our resident lonely heart Khush well he is open to offers! So any ladies with a GSOH please apply! adventure at mailasail dot com (remember to replace the "at" and "dot" with the correct characters and remove spaces.)
Lots of love the White Watch x
(Rachel, Dave, Ram & Khush)
---