Brass Monkeys

Adventure_iceland
Sun 10 Aug 2008 23:34
Sailing has still been exciting (above) although we have had several quieter periods of wind – typically we are sailing in Force 3 to 4 with a sea state of 2 to 3. It is pretty cold out on deck at the moment, with the wind chill it is probably between 3 and 6 degrees but it certainly feels colder than that. A four hour watch allows the cold to slowly seep in to one's bones. Our watch has implemented a rota system that allows one person to go below for 20 to 30 minutes to warm up after helming (below, Byrne is at the helm – Windy took the arty shot). This works well and it is great to get out of the icy wind.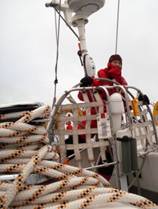 As mentioned in the previous blog, we have started to see some icebergs. This makes the night watches a little trickier as we have to remain vigilant – watching for the obvious bergs as well as the semi-submerged growlers (these typically only have a small surface above sea-level but can still be large enough to cause damage). We are equipped with night vision aids and the ice lights up really well which makes the sentry's job a little easier. We are also making use of radar to aid in the spotting of bergs. Below are some pictures of members of the team with the obligatory iceberg in the background. First up Greg then Andy and Byrne. The third shot is an iceberg that was about a mile off our port beam. The fourth shot is of Byrne, Andy and Linda wrapped up warmly.
Below, Linda and Andy enjoying the sailing.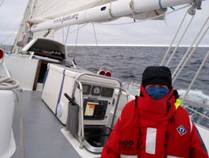 During our last watch (1200 to 1400) we shook out the two reefs that had been put in over night by the other watch. We are beating to windward and are approximately 280 miles from our destination. We have come to the realisation that we took a wrong turn somewhere and this certainly isn't Bermuda! Linda's bikini is tucked back in to her bag.
Regards Red Watch (Andy, Byrne, Greg and Linda)
---