Meet the Skipper

Adventure_iceland
Tue 12 Aug 2008 00:15
The time on board seems to be slipping by at a rapid rate. During our overnight watches we spotted a few more icebergs and some growlers that had roughly a car-sized piece of ice showing above the surface. Fortunately the ice glows brightly with the night aids so we were easily able to navigate around them. By the end of the early morning watch (0000 to 0400) the wind had dropped off so much that it was back to the donkey. After breakfast we were back on deck, still with no breeze. The Skipper, Richard, called everyone up on deck just before 0800 and to the surprise of many, promoted Windy to Staff Sergeant and presented him with a custom made rank brassard. Below, the skipper is in mid-flow, entertaining the crew before handing the brassard to Windy.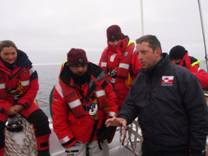 The skipper (pictured below with Andy at the helm) has turned out to have a number of interesting character traits, much like Windy, which we felt we should share in this blog.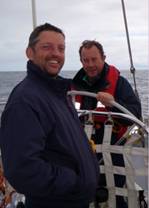 When we asked some of the other crew members what they would add to this blog, the responses were all the same – the amount of time he spends in the heads! During one of the Easter training weekends, one of the crew members made a comment about the heads when he felt another crew member was taking a little longer than usual – he pointed out "it's a toilet, not a miracle parlour!" We believe that the skipper still believes the myth that the heads are indeed some form of miracle parlour, but we can confirm that it is indeed a myth – despite the amount of time he spends in there. He typically spends the equivalent time a complete watch of four takes to pass through the remaining heads and as far as we can tell no miracle has yet occurred.
When in a jovial mood, the skipper can often be found dancing above or below deck. We say dance, but it could be related better to someone attached to an electrical outlet. Although his dancing leaves a lot to be desired, his music collection is certainly top notch. Greg was however slightly disappointed to find that there wasn't really anything pre-1750, but he did admit that the opera tracks were pretty good.
When not dancing, the skipper can be found actively engaging in one of his two favourite pastimes – asleep or in front of the laptop (below) writing up secretive blogs and profiles. You may be surprised that the crew have not seen any of his musings on the blog site and are eager to read what he has written on their return from Greenland. When not blogging he will be pouring over the latest weather and navigation charts that he downloads daily. He is always happy to explain these to any curious night owls that may still be wandering around the yacht. Richard's obsession with the laptop is fortuitous as without it, there would be no daily blogs from the crew. For this, you'll no doubt agree, we are all extremely grateful.
On occasion the skipper has been spotted doing a fairly good David Attenborough impression, tracking the local wildlife on the yacht. During one such occurrence he conducted a night excursion to review the sleeping patterns of the native hippopotamus tribe. He managed to capture the impressive nasal trumpeting of the lesser spotted Dave and the reverberating nasal echoes of the greater spotted Allan. The captured audio was played back over the entertainment system over breakfast, to a delighted audience. Will his efforts soon feature on You Tube?
We have also discovered that the skipper runs a pretty good café. Blue watch were a man down (as you have hopefully read in an earlier blog by them) and Richard, being the fine upstanding chap that he is, mucked in. He did suffer from some minor delusions of grandeur as he had adopted the role of maître d'hotel. Luckily he didn't enforce a strict dress code and the food was pretty good. He was somewhat insulted when someone called him a waiter – pointed out that he had far exceeded that position. We are of the opinion he just preferred the politically correct name of waitron! Surprisingly he didn't help out with the washing up.
Taking a leaf from the mate's book, the skipper can often be found hovering around the helm when the sailing conditions are exciting. If he manages to get his hands on the helm, it is extremely difficult to prise his hands off the wheel and give someone else a chance. When he is at the helm his face lights up like that of a little boy that just received his first train set for Christmas. Below, an example of a happy skipper at the helm.
Richard has shown that he is a meticulous planner, and finds it frustrating when his plans are entirely bypassed by a crew member with far less experience; this crew member then realises the mistake and points out that perhaps the original plan (i.e. the skipper's plan) would have worked better!
He works hard at maintaining a good rapport with the crew (below), even if we do test his patience on occasions (OK – probably a little more than that).
Of his appearance, we can describe him as having a rugged look which has been softened by a touch of "oil of olay" (applied during the hours spent in the "miracle parlour"). Below, Richard is attempting to show off this "rugged olay" look.
Sailing with Richard is a positive experience. We as Red Watch have enjoyed crewing under him and are sure the rest of the crew echo these sentiments.
Time to serve up dinner at Café Rouge. Tonight it is Steak & Kidney – apparently a favourite of the skipper – so we hope not to disappoint.
Yours, Red Watch (Andy, Byrne, Greg and Linda)
---