Ocean 3 - Hot off the press!

Adventure_iceland
Thu 28 Aug 2008 22:00
Good evening, Ron Burgundy here,
Thank you to our special reporter Daz for his report there. Now for the proper news report direct from Adventure with on board reporters "Oceans 3."
Well what a good few days we have had here on Adventure, plenty of wind in the right direction has seen us chew into the miles. As usual morale is high on board so things are still going well.
NEWS FLASH ... ... at tea time tonight, whilst dining on spaghetti bolognaise (made by red watch) in a rather lumpy sea with the yacht blasting along in 35 knots of wind, Paul was sat opposite Windy and failed at his adventure dining etiquette drill. For those of you not in the know, this is one arm hooked round the bowl at all time, with your cup in the same hand, leaving your other hand free to feed yourself. A momentary lapse of concentration saw the bowl leave Paul's grip, pick up momentum and cover Windy, his t-shirt, shorts and boots, and galley floor! Paul was very apologetic, now having no dinner, Windy then shared his with him.
As promised in our last report we have some people profiles so you might get to know the crew a bit more intimately. First on the chaise-lounge is our skipper:
SSgt DP Gale MBE aka "Windy"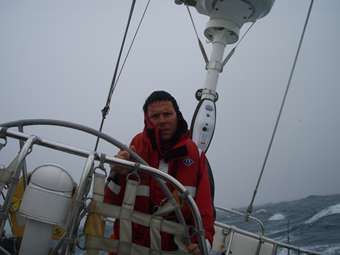 Age: Anyone's guess but young at heart!
Interests: Well I'm guessing sailing he has done one or two miles in the Northern and Southern hemisphere, and if he doesn't like it then he's in the wrong job but putting a very brave face on things!! Another of his interests, BIG interests is fishing and how one day he is going to catch a monster carp! Personally I think he just can't keep away from the water! He also has a great passion which is his pride and joy, a 1969 mini, a little rust bucket that he has nursed back to good health and spent thousands of pounds on.
Next up is our 1st mate:
Maj P Molyeaux aka "Paul"
Age: Timeless classic
Interests: Once again and obviously sailing but he does not have the bug as bad as Windy as he does some land based hobbies as well. These included grouse shooting and he is also a petrol head at heart! Now this man is a walking story book with an anecdote or story for nearly every situation, it makes the night hours more interesting that's for sure. Always immaculately turned out, Paul is a true pleasure to sail with.
Followed now by our other mate is SSgt D Cattle aka "Daz"
Age: looks (and acts) younger than he is
Interests: Quizmaster Daz is continually firing questions at us all, on all subjects. His specialist subject appears to be biology, and hypothetical situations and scenarios. Never a dull moment when action AT man Daz is around he is guaranteed to raise morale with his jokes and dubious dancing. Keen on keeping his toned bod in shape, Daz can often be found doing triceps dips in front of the wheel. Daz's passion for teaching means that we have all learned many a thing or two whilst on board Adventure.
---