The "Do Not Resuscitate" list

Adventure_iceland
Thu 31 Jul 2008 09:26
Greetings from Blue watch; Anne, Allan, Peter and Neil.
Day three into the adventure of a lifetime, and I think everyone was able to get a breakfast. Toast for those still feeling the motion a bit, but a choice of toast, porridge, cereal and fruit for the rest. Ham and mustard was on offer to the really hardened stomachs. The atmosphere has perked up no end with loud cheery voices heard the length of the ship; totally different to yesterday when the loudest response was a groan.
The increase in spirits and food intake is probably down to a calming of the weather, so much so that we have had to resort to running the engine to maintain progress. We are trying to make some distance to catch the winds from the low pressure due to come through. Too slow and we might have the wind against us.
The blue watch was on last night from 4 am to 8 am. Very little to deal with except a bit of rain. We did have a beautiful sunrise to greet our day and as soon as we handed over to White watch, a school of porpoises joined us. A wonderful sight that caused much excited rushing up on deck.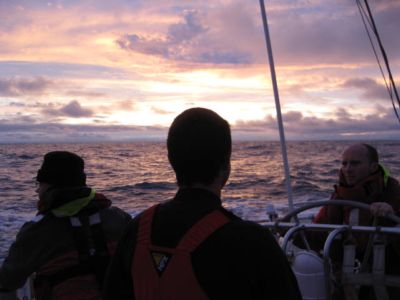 Byrne wanted me to add to his description in the last blog to make it clear that the lifejackets automatically inflate when underwater. He makes it sound like they got a dipping up to their necks, but I know they tend to go off with just a rush of water past them, so it is less heroic than it sounds.
We have started a "Do Not Resuscitate" list. In an emergency, the list is consulted to see who would be last in the queue for reviving. Up to now it has been dictated by who has classified themselves "walk on luggage" due to being the sickest, but the girls have taken the list over and decided that the new criteria will be who has not brushed their teeth that day. Eeew.
Peter
---