The little things in life .. ... ...

Adventure_iceland
Tue 19 Aug 2008 22:28
"There must be quite a few things that a hot bath won't cure, but I don't know many of them" Sylvia Plath
The yacht is currently stationed in Maniîtsoq. Well after the last amusing 24 hours and a good nights sleep all the crew are smiling again. The day started with a good helping of ships gruel, as we only have 24kgs of cornflakes left and don't want to waste them! After breakfast the crew were given tasks by Windy and his two Mates. Red Watch (Kev, Emma and Greg) had the pleasure of bilge cleaning and engine checks. Yellow "Ginger" watch (Stu, Tom, Mike and Andy) gave the decks a good clean and Louise was left to give the heads good dig out. Whilst cleaning the heads a water tanker arrived to fill Adventure's tanks, a simple task we hear you all cry! However a two inch hose was passed down to Louise which she placed in the filler and held in place. She then shouted "water on" but the hose was too powerful for her to hold and a Louise ended up looking like a drowned rat much to the amusement of the others on deck. Meanwhile Windy, Josh and Emma went shopping for the fresh supplies for the sail home which begins tomorrow morning at 0900hrs. We downed tools for a spot of lunch and the weather was so nice, crisp yet clear, that we ate on deck.

Andy, Stu and Daz prepare lunch
After lunch the crew had some time to take in the sights of Maniitsoq and have a hot shower at the 5 Star Maniitsoq Hotel, a lovely treat! Emma and Windy cooked up a storm in the kitchen with a delicious lasagne and garlic bread. This was followed by Daz's surprise for pudding, chocolate mousse. The surprise was that he misread the Danish for 'pint' as litre and the mousse was more of a milkshake! However it still went down a treat.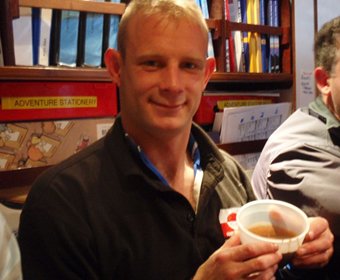 Greg and his Daz surprise!
For all the Family and friends, all the crew are fine and in good spirits and looking forward now to slipping tomorrow morning for the long trip home.
Red watch – Kev, Emma and Greg.
---