CAPTION COMPETITION

Adventure_iceland
Sun 10 Aug 2008 23:30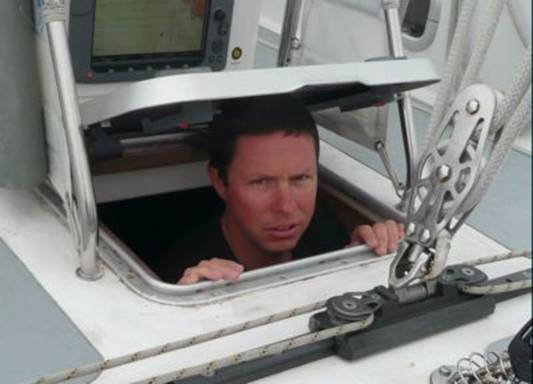 Crew Suggestions
Windy's reaction to Icebergs
Two weeks without fags.

Lookout Leg 2 crew.
"Have you stopped going around in circles yet?
'Clockwise around the $#@&ing winch'
The next deck game – Whack-a-Mole
Suggestions from our blogging fans please.
Look away now
Peter here.
For those who have been reading the blogs thinking that this trip is a mix of happy laughter and excitement, I thought I should relate a somewhat darker moment. For those with a more delicate constitution, read no further
I am sat alone with the laptop having been banished out of the galley because I am suffering a bout of diarrhoea. This came upon me suddenly whilst I was helming. I ran to the heads desperately trying to undo my life jacket and get through three layers of top and bottom clothing. I was just too slow, and had to spend the next hour cleaning up, showering and then disinfecting every surface of the loo - all this in 20 knots of wind, heeled over and crashing up and down on the waves. The skipper ordered me to bed, and after several hours rest I am now up and about, but banished from anywhere near food preparation or serving. Sailing is not all G&Ts on the sun terrace. My blue team members have been taking up the slack left by my absence, but sadly for me, seem to have been coping just fine with lots of tacking.
On a happier note, we are slowly beating our way up the west of Greenland against a northerly wind, keeping about 10-20 miles offshore. Plenty of icebergs to keep the lookouts busy. It is quite an ordeal battling into all the layers of clothing with three others in the cockpit area. Lots of 'excuse me', 'coming through' and 'if you move here, I can get my trousers on'. All are now wearing at least 3 layers.
Peter
---