Another note from the other mate!

Adventure_iceland
Fri 29 Aug 2008 21:36
"
The true mystery of the world is the visible, not the invisible" – Oscar Wilde
This has been much more for me than a sailing adventure. It began with the thoughtfully arranged and careful selection process which began in November last year and involved numerous training weekends and a culmination week for each leg when crews were able to get to know each other better and to discover whether they were ready for the expedition.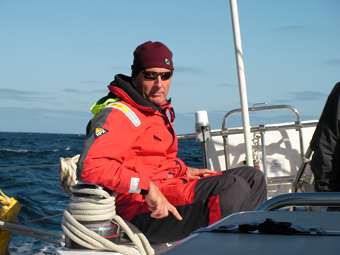 Paul - "A bad days sailing in better than a good day in the office!"
In January, I completed the 5-day Medical First Aid at Sea and Medical Care at Sea at JSASTC to become the third member of Leg 2, with Windy and Daz, trained to deal with emergencies.
On 2nd July, I was delighted to be invited to meet Adrian and Louise Flanagan. Adrian had just completed a north – south single-handed circumnavigation. His book will be available shortly. During supper, amongst many other very useful tips, I learned that an essential item for cold water sailing is a hot water bottle. To the consternation of my wife, I packed one in my bag and what a wonderful friend it has become to my chilly feet.
Finally, on Wednesday 14th August, the different strands of Leg 2 of the expedition: climbers, kayakers and sailors met for the first time at the Windsor TA Centre and spent a very jolly night, sleeping on the drill hall floor.
I was pleased that we were able to spend an evening in Copenhagen on our way to Greenland. I had last visited on a school trip when I was 12 years old. Indicative of Danish tolerance, two of the squares contained very loudly amplified Peruvian folk groups. After dark the Tivoli Gardens became a lively fairytale and in another square a large and colourful gay pride festival in full swing.
The pilot on the leg from Copenhagen to Greenland told us that, unusually, we would be flying a more southerly route than usual because of the jet stream. This turned out to be over the Faeroe Islands which were free of cloud and enjoying a rare day's sunshine. A treat for those who collect aircraft augenblicken. The starkness, cragginess and scattering of single houses on isolated creeks made the islands to look much more inhospitable and remote than Greenland.
We had a fine one-and-a-half-hour fast boat transfer from Maniitsoq to Kangaamiut. It was a great privilege to be driven by a local boatman, in his own craft, who judging by his spirited driving technique and speed was not yet suffering either a global warming conscience or any concerns about fuel costs.
In Kangaamiut we were all accommodated for two nights on the floor of the village sports hall. It was modern, warm and very well equipped for gymnastics and a large number of indoor ball games. Unlike Windsor there were plenty of mats to insulate us from the floor. Inevitably, the local children seemed to derive more pleasure from demonstrating how fast they could swarm up the corrugated sides of the building and over the roof than operating the equipment inside.
We spent a memorable evening crammed into an upstairs meeting room in Kangaamiut with our singing led by the Master of Signals, General Sam Cowan, singing an Irish folksong, Brigadier David Hargreaves singing Gilbert and Sullivan. Songs from other expedition groups and the locals of all ages, men, women and children including those who had hunted for our supper of whale, musk ox and reindeer singing some beautiful songs. I don't know how often the locals get together to sing these days, but a number of them were moved to tears.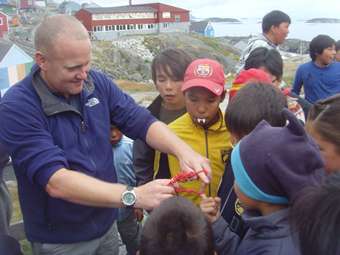 Daz entertains the local children with magic tricks.
The sailing has included beating, running and reaching in all conditions of temperature and precipitation and with winds up to Force 8. It has been well reported in the daily blogs, so it just remains to offer very special thanks to Richard and Mark for planning and preparation, Windy and Daz for tirelessly tutoring me in the ways of yacht Adventure, to the Kev, Emma, Greg, Josh, Oz, Lou, Stu, Andy, Mike and Tom for their hard work, enthusiasm and tolerance.
Paul – First Mate, Adventure
---