Are we there yet?

Adventure_iceland
Thu 14 Aug 2008 20:27
We are working our way northwards towards the Arctic Circle, and everyone is counting down the miles. Not sure what to do when we get there. Is there a ceremony like crossing the equator? A shave and a dunking might not be the best idea right now but we will have to think of something.
After a boisterous beat to windward to clear the lee shore of Maniitsoq in the diminishing gale, the wind and seas calmed down in the early hours. In fact we then motored on an almost calm sea with nothing for us to look at except grey sea and grey sky – just rain, rain, rain and more rain to soak you through. But then the cold front passed overhead, the skies cleared, the wind veered and became more consistent and we had a fine early morning reach.
Best and worst kit
Thought we would take this opportunity to relate what bits of kit worked and what did not. Just some highlights of the best and worst.
'Oilys' jacket and trousers: Generally OK, but some issues. One's we are issued are getting old, and are no longer waterproof. Wet knees and crotches are common. Some crew members have a Smock instead of a Jacket which works very well with the additional waterproofing features, but are a right pain to put on and take off (especially if put on backwards – just ask Andy).
Midlayer jackets and trousers: Wonderful kit. Thin and warm, and gave us an extra waterproof layer under the leaking Oilys.
Gloves: We have two types, Sealskin Winter and Musto Medium. The Sealskin's are nice and warm, but your hands need to be dry to put them on and take them off. (Bit of a problem at sea.) Basic problem is the inner layer turns inside out when you take them off and then it is really difficult to put the liner back in. They are hated by some because of this problem. The Musto gloves are lighter but much easier to use. We would suggest Musto Gloves, with a set of outer waterproof mittens is the best compromise (with a possible alternative of 'Dustbin' rubberised gloves).
Neck warmer: Larger the better, and windproof. Tube design rather than a scarf is good as it can be pulled up to the ears. A neck windstopper from a motorbike shop works well. The flexible buff has proved a winner.
Socks: Sealskin waterproof socks and inners are lifesavers, because the boots will get wet, and nothing is worse than putting a dry, warm pair of socks into damp boots.
Hats: The Sealskin beanie and waterproof hat are both very good and it is nice to have the choice with different weather conditions. Only suggestion is that the beanie could have longer sides and back to cover more of the ears and neck. Not too much of a problem or those of us with normal sized heads – it's the big heads that are the problem…
Underlayers: The 'moisture wicking' type are very good. When they are damp, you feel dry but the outside has beads of moisture which can be wiped away. Gill do an excellent range for boys and girls!
Creature comforts: MP3 player and a couple of books are good to have.
We're Here
Hooray. It is now 11:45 on the 14 of August, and we have reached the Arctic Circle. We are going to hang around for a bit and do some fishing. Sea temp is 5.5 deg C.
Pictures below show our GPS position, Red watch going off shift after successfully piloting us over the edge, White watch behind the wheel (needing all four to steer straight) and Blue watch taking time out from being mother. The final picture is of the local friendly Walrus we have named Peter.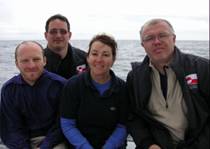 Regards, the Crew
---